BBVA and Anthemis partner to build the next generation of financial services startups
The partnership paves the way for the development of a startup studio in London, reinforcing BBVA's strategy to be part of the fintech ecosystem and develop products and services for the new era of digital banking.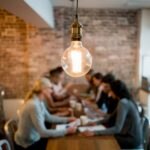 BBVA today announced a partnership with leading fintech venture investor and builder Anthemis Group (Anthemis) to build a venture creation studio in London.
The studio will create value by deploying capital and resources to building businesses that address untapped user needs and attract the best fintech entrepreneurs.
The partnership will see BBVA expand its footprint in the fintech ecosystem, while enabling Anthemis to continue its mission to cultivate change in financial services. BBVA and Anthemis expect to help startup founders find fintech business opportunities, initiate projects, and see them develop from conception through to the seed capital round of financing.
The partnership will also complement BBVA's current startup activity, where the bank creates, invests in, and collaborates with companies in the fintech ecosystem through its venture capital fund Propel and its New Digital Businesses (NDB) unit that promotes disruptive entrepreneurship and the creation of fintech startups.
"This agreement will help us realize growth in our capacity to promote, create, and advance U.K. and international fintech projects outside of our core markets.
"The aim is simple, find the very best fintech ideas - the ones that are real game-changers and that will improve people lives and the way businesses operate, and then support their growth.
"Anthemis' experience both in the U.K., Europe and increasingly across the U.S. makes them the best possible partner for this project," explained Ian Ormerod, BBVA's Head of New Digital Businesses.
Anthemis Founder and President, Amy Nauiokas, continued: "BBVA shares our passion for transforming financial services for the Information Age. The company has played a tremendous role supporting innovation in the fintech ecosystem globally for many years.
"To that end, BBVA is a perfect partner for Anthemis to align with as we seek to find the next opportunity spaces for early stage entrepreneurs inside an industry still so ripe for change."
Anthemis brings its deep knowledge of global fintech trends, a rich network of like-minded innovators, as well as a solid track record of fintech investment to the collaboration. As part of the agreement, a specialized team will be appointed that represents both BBVA and Anthemis and is responsible for the management of the studio and its projects.
A natural market for fintech
A decade ago, London secured its position as the European fintech hub, and it continues to attract the continent's most innovative projects. In addition to being a market for BBVA, the British capital offers extensive access to all kinds of financing and has an unrivaled international pool of talent. In fact, investment in the U.K. fintech sector continues to grow with around half of all European fintech investment flowing into the country.
BBVA boasts proven experience and capabilities in both the incubation and promotion of fintech startups. The Group maintains a close relationship with the fintech and innovation ecosystems through NDB, Propel and initiatives like Open Talent, the world's biggest fintech competition, which celebrates its tenth anniversary this year.
In 2017 BBVA launched multiple projects, including Tuyyo, an app that facilitates instant international money transfers; and Covault, a startup specializing in online identity protection using biometrics. Soon afterward, Azlo, a U.S. startup offering online banking services to small businesses and the self-employed, was founded. Then, in early 2018 Denizen, a company that provides global banking accounts to individuals who need to manage their money internationally, was launched.
In early 2017, BBVA launched Muno, the first digital insurance company in Spain exclusively targeting the self-employed. It has since launched two products: unemployment protection insurance in case of accident or sickness and medical insurance.
"The aim is simple, find the very best fintech ideas - the ones that are real game-changers and that will improve people lives, and then support their growth"
Other BBVA investments include a 39 percent stake in British neo bank, Atom Bank, as well as a stake in Germany's solarisBank, a pioneer in banking-as-a-service.
BBVA's external investment arm, Propel Venture Partners —an independent venture capital company—manages the portion of the bank's resources that are earmarked for fintech startup investment. Some of its recent transactions include an investment in Brazil's Neon Pagamentos, and British online mortgage platform Trussle. Propel's portfolio includes other emerging businesses like Coinbase, EaseCentral and Brave Software.
In the Asian market, BBVA invested $50 million in the Sinovation Fund IV, Sinovation Venture's venture capital fund in China, managed by Kai-Fu Lee. This investment provides BBVA with the potential to better understand and possibly co-invest in technology startups in China and gain access to the growing Chinese artificial intelligence and innovation markets. In doing so, the bank will increase its presence in the world's largest growing technology market while focusing on attractive returns on its investment.
Meanwhile Anthemis has been one of the most active investors, venture builders, and advisors inside the fintech ecosystem since the company's inception in 2010. Led by Sean Park and Amy Nauiokas, Anthemis' mission is to cultivate change in the financial services industry by investing financial, human and intellectual capital in the people and businesses who share its ethos and help them to build and grow these companies into the leaders of tomorrow.
With offices in London, New York, Geneva and Luxembourg, Anthemis' portfolio of 65+ startups represent a who's-who of fintech innovation, from consumer finance, to banking, wealth management and capital markets; lending and payments; risk and insurance; as well as data and infrastructure companies upon which today's most promising fintech startups are built.
In addition to Anthemis' discretionary investment vehicle and three non-discretionary partner vehicles, the company runs its own venture builder, the Anthemis Foundry. In 2016, the Foundry team embarked on its first venture creation partnership with a likeminded financial services company to build financial wellness startups.
Anthemis further advances its commitment to nurturing a thriving, global fintech ecosystem by working with policymakers and academics inside the Anthemis Institute, as well as by playing host to emerging voices and trends inside financial services through its media and events arm, Hacking Finance.