The exhibition 'Sound Art?', sponsored exclusively by the BBVA Foundation, addresses the issue of sound in art and raises the possibility of this aesthetic category. The art show explores the presence of sound elements in 20th Century visual arts. Curated by the expert Arnau Horta, the exhibit is open to visitors at the Joan Miró Foundation in Barcelona from October 26, 2019  through February 23, 2020.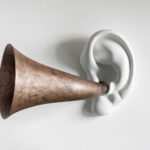 'Sound Art?' takes visitors on a journey following the element of sound in visual arts from last century. With this show, the curator Arnau Horta, specialized in sound analysis and in the act of listening in contemporary artistic practices, investigates the presence of the element of sound in visual arts to contribute the debate over sound in art.
Divided into five areas, the exhibition identifies different types of expressions of sound in visual arts. It also puts the use of sound as an artistic object in chronological order to illustrate how this sound process took place progressively; first implicitly, as a metaphorical allusion to sound, and then explicitly, as an effective propagation of sound in artwork. A journey that serves to explain how the incorporation of sound allows the artistic object to be present in a radically different and augmented manner.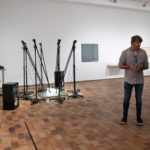 Rafael Pardo, Director of the BBVA Foundation, visits the exhibition 'Sound Art?', accompanied by the curator Arnau Horta - FBBVA
The title 'Sound Art?' refers to the renowned article by Max Neuhaus (1939-2009), a pioneer in sound installation who asked himself the same question 20 years ago. The art show features 70 paintings, engravings, drawings, sculptures and installations that illustrate the continuous, rich conversation that visual arts have historically maintained with sound.  The selection covers a broad time period starting from the end of the 19th Century to present day with artwork by 37 artists from around the world, including James Abbott McNeill Whistler, Marcel Duchamp, Sonia Delaunay, František Kupka, Joseph Beuys, Laurie Anderson and Joan Miró. Some of the pieces displayed include John Baldessari's first sound sculpture, visual artwork by John Cage and a sound piece by Louise Lawler.
In addition, coinciding with the 80th anniversary of his birth, the exhibition puts a special focus on Rolf Julius' (1939-2011) visual-sound universe, which had never been displayed this way before in Spain. The Joan Miró Foundation of Barcelona will host the exhibition 'Sound Art?' until February 23, 2020.