The film "Cooking Up a Tribute", by BBVA Contenidos, is honored at the Spanish Embassy in Japan
'Cooking Up a Tribute', produced by BBVA Contenidos, was subject to tribute at the Spanish embassy in Japan after winning the best documentary award at the Latin Beat Film Festival in Tokyo. The feature film was introduced by Josep Roca, Sommelier at El Celler de Can Roca and the middle brother of the three owners of the world's best restaurant, who was joined by Gonzalo de Benito, Spanish Ambassador to Japan.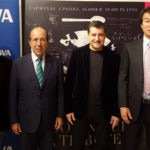 Some 120 guests attended the screening of the film at the Spanish embassy, including some of BBVA's foremost clients and representatives in Tokyo. Also in attendance were dozens of journalists, business leaders and leading figures from the world of gastronomy, who came to watch the film that follows the Roca brothers on their first international tour to Mexico, Colombia and Peru, seeing them cook for more than 2,500 guests invited by the bank.
During his speech, De Benito, who was formerly the Spanish Ambassador to Peru, described the documentary as "an example of why gastronomy is so vital to promoting a country's culture". He went on to underscore the important role of this joint project between the world's best restaurant and BBVA for raising the profile of Spanish cuisine. "It is an honor that they represent us to the world".
Josep Roca, meanwhile, expressed his gratitude for the interest that Japan has shown in the BBVA Tour, the second edition of which saw the brothers travel to Argentina, United States and Turkey. "We feel like ambassadors for our country and our cuisine, but we are also grateful for the welcome that we have received and all the new things we get to learn wherever we go". "This film and the award pay tribute to Mexican, Colombian and Peruvian cuisine, but also to our team at El celler, and of course to BBVA, which placed its trust in us".
"Cooking Up a Tribute" premiered worldwide at the Berlin Film Festival and has been screened at some of the world's foremost festivals, including Seattle and San Sebastian. There is already a sequel, called "The Turkish Way", which is in the final editing stages and will be released early next year.
Visit the BBVA and El Celler de Can Roca website (elcellerdecanroca.bbva.com) to download the first 10 minutes of the documentary.
Full information, pictures and videos on the BBVA-El Celler de Can Roca are available at the website http://elcellerdecanroca.bbva.com/ and via the following social networks:
- Facebook: https://www.facebook.com/CellerRocaBBVA
- Twitter: @CellerRocaBBVA
- Instagram: https://instagram.com/cellercanroca/