Garanti BBVA and the Export-Import Bank of China have agreed to a $300 million, three-year loan to be used by Turkish companies to finance imports from China. A partner and trusted advisor to its clients engaging in international trade, BBVA's Turkish unit forges international agreements in order to be able to offer customized financing solutions to this commercial segment. The agreement with China's Exim Bank demonstrates the strength of Garanti BBVA's long-lasting relationships with Chinese banks.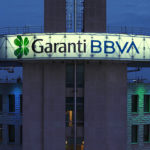 Commenting on the loan, Garanti BBVA's CEO Recep Baştuğ said, "With this agreement Garanti BBVA has once again exhibited its advantage over other market players when it comes to working with China. We have a long, positive relationship with the Export-Import Bank of China."
Garanti BBVA originally signed a loan with China's Exim Bank in 2016. The Garanti BBVA CEO stressed that the new agreement further underscores the international market's strong confidence in the bank. He also talked about the bank's experience in the region, saying "Turkish companies doing business with China can benefit from our expertise. We are the first Turkish bank to open a representative office in China, and as such we have a wealth of knowledge." Baştuğ concluded by confirming the bank's commitment to foreign alliances, which assist Turkey's business community with foreign trade financing.