Garanti BBVA renews its website, optimizes user experience
Türkiye's Garanti BBVA recently launched a redesigned website, with a simpler and more user-friendly interface and enhanced user experience. The bank's website is one of the most used channels for customers to get useful information.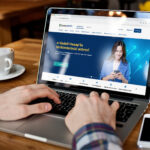 With a simpler structure and new quick reference sections, the new website aims to offer the best possible user experience while ensuring faster access to products and services. The home page of the website, Garantibbva.com.tr, allows visitors to easily access the most frequently performed features, such as credit card transactions, campaigns and budgetary tools - with a single click.
Most notable in the website are the fast access menu, easy-to-read pages and modern design covering all segments and needs - individuals, businesses, SMEs and private banking. Thanks to search engine optimization and an advanced infrastructure, Garanti BBVA also offers visitors a more easily accessible and faster experience.
Additionally, Garanti BBVA has optimized the user experience for those accessing the website from mobile devices. Internet usage rate from mobile devices is over 95 percent in Türkiye. Therefore, the renewed website is compatible with devices with different screen resolutions, such as mobile phones or tablets.