Garanti launches latest revamp for Garanti Mobile app and Garanti website
To make customers' lives easier through innovative products and services, Garanti Bankası has revamped its mobile app (Garanti Cep) and website for SMBs. They now provide a completely new user experience tailored to the financial status and needs of each SMB user.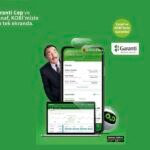 SMBs are now able to track their activity much more easily using the revamped Garanti Mobile and Garanti Internet platforms. Each has a customized homepage designed specifically for the products and banking needs of SMBs that displays their financial status at a glance, as well as providing "inflow-outflow" tabs that summarize fund inflows and outflows, providing users with simple way of monitoring their cash flow.
Users of Garanti's mobile app and Garanti's website also get detailed information about products that are important for their daily business activities, such as their POS systems, checks and credit cards, as well as being able to review their receivables and manage their cash flow.
Executive Vice President of Garanti Bank SMB Banking, Cemal Onaran, explains the new Garanti service: "We are trying to tailor our products and services to suit the needs of SMBs and make their lives easier. Our aim is to be on the side of SMBs and to help them run their businesses as well as possible by providing them with access to any service they need through digital channels."
The revamped Garanti Mobile and Garanti Internet look to meet the needs of SMBs and their newly designed home pages aim to provide simpler access to customers' financial needs, allowing them to manage their cash flow better and thus act faster than ever, whenever they have to. "We are pleased about the positive feedback we have had on Garanti Mobile and Garanti Internet from our SMB customers. As the bank that endeared tech to SMBs, we will continue to support them with our innovative products and services," Onaran added.
As a leader the banking industry and in the digitalization journey of its customers, Garanti strives to provide customers with services that make a difference. Executive Vice President of Garanti Bank Digital Banking, Didem Dinçer says: "The revamped Garanti Mobile and Garanti Internet aim to support the digital transformation of SMBs and contribute to the optimal management of their businesses through our technology. The goal of our investments is to provide our customers with the best digital banking experience, and always to be on their side by helping them improve their businesses. That is why we will continue to develop products and services that make their lives easier."