Garanti BBVA has released its earnings through June 30, 2023. The bank's net income for the first half of the year totaled TL 33.81 billion; asset size stood at TL 1.89 trillion; and Garanti BBVA contributed TL 1.31 trillion to the economy through cash and non-cash loans. Customer deposits reached TL 1.40 trillion for the first six months of 2023, and remained the main source of funding, with 74 percent of assets funded by deposits. The bank's capital position continues to be strong with a capital adequacy ratio of 15.8 percent.* Its return on average equity (ROAE) reached 38.3 percent and return on average assets (ROAA) was 4.2 percent.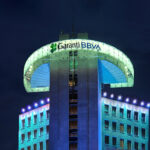 Garanti BBVA CEO Recep Baştuğ noted that the bank managed its balance sheet according to regulations. In this context, its TL loan portfolio reached TL 600 billion in the second quarter of 2023. "We focused on growing our SME and consumer loan portfolios. Meanwhile, growth in corporate and commercial loans was fairly low. With market share gains in SME loans, we also maintained our traditional leading position in credit cards and consumer loans during this quarter as well," he said.
He explained that guaranteed deposits in foreign currency remain the main driver of growth. In fact, Garanti BBVA is the leader among private banks with the highest volume of guaranteed deposits, currently representing over two-thirds of the bank's TL time deposits. Garanti BBVA has developed long-standing relationships with its customers, based on trust. As a result, its performance in TL deposits stand out. "TL deposits is an area that we manage diligently, according to regulations. Therefore, our TL loan deposit ratio has improved even more, reaching its lowest level in history," Recep Baştuğ  added.
Sustainability
Turning to sustainable funding, the Garanti BBVA CEO reported that the bank renewed its syndicated loan facility with 26 participating banks, which it uses to finance women entrepreneurs and micro-enterprises in areas impacted by the earthquake. The syndicated loan encompasses a series of social targets. "When we successfully achieve our targets, there will be a discount in the interest of the loan, and we will use this gain for the earthquake region. Thus, we will continue to contribute to strengthening regional trade and ensuring equal opportunities," he said.
On a similar note, and in line with the bank's responsible banking principles and strategic priority for inclusive growth, Garanti BBVA recently created a program called 'Women who know their account'. "With this program, we are moving forward toward our aim of being an inclusive bank that creates long-term value for all stakeholders," Recep Baştuğ stressed. The program seeks to support women to manage their personal finances through financial literacy training. "As a bank, we value every individual's participation in social and economic life and believe that contemporary and strong societies are founded on the principle of equal opportunity," he affirmed.
Recep Baştuğ also emphasized that global warming will be the most important issue in 2023 and subsequent years, both globally and nationally. "Leaving a better world for future generations is among our most important responsibilities. We are very pleased to announce that we are continuing our Blue Breath (Mavi Nefes) journey, which we launched in 2021 with the cooperation of the Turkish Marine Environment Protection Association/ TURMEPA in the Marmara Sea," he said. The goal of the program is to prevent pollution in the lake, ensure that the Lake Van Basin is resistant to climate change, and create regional awareness of this issue.
Bastug concluded by saying: "Today, with 14 million mobile customers, we are the bank with the most used banking application in Türkiye. I would like to thank my colleagues for their hard work and contributions during this process, and all our stakeholders, especially our customers, who have accompanied us on this journey, supported us, and trusted us."