BBVA's Turkish unit has renewed its syndicated loan agreement obtained from international markets within the scope of its foreign borrowing program and in accordance with social sustainability criteria.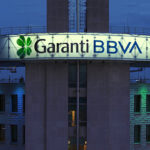 The syndication loan agreement, consisting of two separate tranches of $199 million and €218.5 million with a 367-day maturity, was signed with 26 participating banks from 13 countries. The loan will be used to finance foreign trade, particularly for institutions located in the region of the recent earthquake, and for general institutional purposes. The total cost of the loan was SOFR + 4.25 percent and Euribor + 4 percent, respectively.
Garanti BBVA continues to provide financial support to victims of the February 6th earthquake as part of the recovery efforts. The social targets associated with the loan involve financing women entrepreneurs and micro-enterprises in the region of the earthquake. Garanti BBVA CEO Recep Baştuğ explained that if the bank is successful in meeting its targets, the profit from the sustainability discount will also be used to support the development of this region.
Recep Baştuğ emphasized the bank's leading role in the sector, as demonstrated by the renewal of the syndicated loan in line with ESG criteria. "As part of our sustainability strategy, one of the most important priorities for the bank, we are increasing our socially oriented investments," he said, adding: "We are delighted to renew this sustainable syndicated loan, with a focus on social criteria, as we strive to further our sustainability goals."
The Garanti BBVA CEO said that the bank's efforts to provide resources to women entrepreneurs and micro-enterprises in the region of the earthquake "will strengthen trade in the earthquake region and contribute to equal opportunities, making the bank the biggest supporter of our companies in the international arena."