Garanti BBVA's transformation projects receive two awards at the Finance Technology Awards in Turkey
BBVA's Turkish unit earned top honors in the Enterprise Transformation and Security & Fraud categories at the Finance Technology Awards hosted by IDC Turkey as part of the IDC Finance Summit 2019.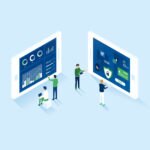 Garanti BBVA won first place with its digital platform for commercial risk analysis (MAR), and Atalante, its security platform project, confirming the bank's ongoing investments in new technologies, digitization, and process re-engineering.
The MAR platform is a cutting-edge application launched in 2018 to help Garanti BBVA employees rapidly carry out data-based risk analysis, thus improving the customer experience for its business clients. Using the tool's two primary functions — data analysis and reporting — , sales and risk-management teams are empowered to conduct fast and comprehensive risk assessments, for either individuals or groups. Each step of the assessment process has been digitized and optimized using OCR tools and artificial intelligence, improving both quality and efficiency of the function.
Garanti BBVA's other winning project, Atalante, harnesses the power of big data and artificial intelligence in order to enhance payment system security. By applying big data techniques to e-commerce transactions, the system generates a trust score for e-commerce merchants who use Garanti BBVA point of sale (POS) systems, thus contributing to the prevention of possible fraud.
 International Data Corporation (IDC), a leading global research consultancy specializing in information technology and telecommunications, hosted the event in Istanbul.Atalante also protects the reputations of both cardholder and merchant, while the transaction security teams carry out their tasks. The project boasts several notable technological feats, including: successfully using operational systems, data warehouses, and big data environments concurrently; implementing change data capture technology to transfer intra-daily data from operational systems; processing near-real-time streams of data with Spark; and building powerful estimation models through open-source machine learning. Various teams — payment systems, transaction security, analytics, IT systems, and information security — worked together to deliver this groundbreaking solution, a clear demonstration of Garanti BBVA's success at delivering integrated, customer-centric solutions.