Trends 2017: Virtual reality, on the hunt for its 'Pokemon Go' moment
This has been a great year for augmented reality, thanks to Pokemon Go. Virtual reality awaits its turn in 2017, but this will not only require improvements to its hardware, but another high-impact application.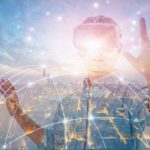 This year, now reaching its end, will be remembered in what is still the short history of virtual reality as the first year in which it surpassed 1 billion dollars in revenue, according to estimates presented by the Deloitte consultancy firm. Although sales of virtual reality glasses increased by 1,047%, to 8.2 million, 2016 cannot be considered as a turning point for the business. Why not?
A recent report from Business Insider Intelligence breaks down the numbers of the business, reaching the conclusion that virtual reality is still a volatile market that has not yet reached, in colloquial terms, its boiling point. "To an extent, it is reminiscent of the smartphone industry midway through the last decade: a large number of software and hardware manufacturers compete in the industry, among a high degree of uncertainty and lacking commonly accepted standards", as stated by the study.
That is what can be said of the supply. As regards the demand, Business Insider Intelligence is convinced that everything is in place for an expansion in collective interest in VR. What is needed is a breakthrough: an application that captures global attention, something similar to what occurred in 2016 with augmented reality and Pokemon Go. The consultancy firm does not speculate on the candidates that will bring about the changes to make VR a great success, but makes it clear that it is around the corner, due to the combination of a number of factors: advances being made in hardware, the gradual increase in developer and consumer interest and the increase in global investment, which in 2016, according to the CB Insights consultancy firm, will reach 2.6 billion dollars, increasing by 271% over the same period the year before.
Quality versus price
As this popular demand grows, manufacturers and early adopters of VR have to find the balance between device quality and price: the price has to be competitive, while the immersive experience has to be attractive enough to convince the consumer to wear a visor for sufficiently long periods of time. Moreover, if manufacturers opt for low prices but offer low or poor-quality experiences, they run the risk of alienating VR consumers, an effect that will not disappear from one day to the next.
As of today, what is affordable does not have the necessary quality, and the devices with the necessary quality are not affordable. This dichotomy includes three types of offers: the VR supported on smartphones; VR running on consoles or PCs and autonomous VR. The price of the first type is more affordable but experience quality is its weak point; the second is very immersive but can be very expensive. Lastly, autonomous VR is halfway between the two.
VR running on mobile phones is the clear winner in the short term, but restricted as regards future options. For now, it is affordable and consolidated in the market to a certain degree, represented by models such as Google Cardboard and Samsung Gear VR. In addition, some industry giants are making an effort to promote their product in advertising campaigns: Google has offered its Daydream glasses for free with the purchase of its premium Pixel phone.
Versus the half million VR glasses associated with phone sales in 2015, BI Intelligence forecasts sales of four million by the end of 2016, 6.4 million at the end of 2017 and 36 million in 2022. This cannot be considered a great success. To put these figures into context, Apple sells between 40 and 50 million iPhone...each quarter.
The dilemma of the cell phone
However, the main problem of VR associated with smartphones is not spiking the interest of the consumer, but a technical one: the computer processing capability required for quality virtual reality experiences may be incompatible with a cell phone.
So, will VR be one of the few futuristic realities to slip through the grasp of the all-powerful smartphone? As highlighted by Paul Lee, head of Deloitte's TMT (Technology, Media and Telecommunications) area, "the current market size of smartphones with VR options is more than 2 billion devices, but if we are thinking about really good VR, we need very fast processors and authentic high-definition screens. This reduces the market niche to between 100 and 200 million smartphones".
Virtual reality experiences supported by personal computers, and especially consoles, have appeared with interesting alternatives. The problem with PCs is the price: in addition to the cost of the computer and accessories, the VR devices are expensive. Their price ranges between 500 and 1,000 euros, with the HTC Vive at 800 dollars and the Oculus Rift at 600 dollars.
Currently, consoles offer quality that is similar to PCs but at a more affordable price. The Playstation glasses, priced at around 300 dollars, are the only big player so far. Neither is there an abundance of autonomous VR, the leader of which is Oculus, the company that purchased Facebook in 2014 for 2 billion dollars. Regardless of the specific virtual reality device, as occurred with the popularity of personal computers and smartphones, BI Intelligence expects prices to drop annually between 5% and 10% until 2021.
Palmer Luckey, the founder of Oculus VR, prophesized at the time that "virtual reality would be something that people would want much sooner than they would be able to afford it". The conclusion presented by BI Intelligence is that authentic virtual reality is too expensive. However, the demand is increasing: a study by the online platform for event organization Eventbrite reveals that 78% of millennials prefer to purchase an experience rather than a product. VR needs to perfect its hardware, but above all, to catch its own Pokemon Go.