Encouraging concert goers to turn on their smartphones during performances, filling London pubs with the music of Handel's arias and sharing the stage with a rock band, are just some of the ways that some large symphony orchestras are exploring to attract younger audiences to concert halls.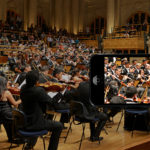 Classical music is in the midst of a deep crisis. While last year in Spain 24.5% of the population attended a modern music concert and 23.2% went to see a play, only 8.6% went to a classical music concert, according to the Ministry of Education, Culture and Sports' Cultural Habits and Practices Survey.
And this trend is by no means restricted to Spain. In the United States, live classical music audiences have shrunk by 30% in the past three decades. "And this decline is especially significant among under-50 audiences," says John Sloboda, research professor at London's Guildhall School, who visited Madrid to take part in the 4th AEOS-BBVA Foundation Conference.
For Ana Mateo, president of the Spanish Association of Symphonic Orchestras (AEOS), the situation for orchestras in Spain is "marked by the crisis. On one hand, it has taken its toll, making it really hard for us to meet our budgets. On the other, it has forced us to find new ways for reaching out to our audiences and doing more with less. The good news is that the crisis seems to be coming to an end and, unlike in some our neighboring countries, all our orchestras are still here."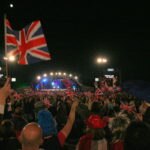 The BBC Proms festival draws thousands in a festive atmosphere to listen to classical pieces.
Passive shows, little room for surprises
Sloboda, who directs a research program dubbed Understanding Audiences in Guildhall, is convinced that one of the reasons why the youth is losing interest in classical music concerts is because they leave little room for surprises. "In a pop, folk or jazz concert, you don't really know what the band is going to be playing, or what the stage, the lighting, the band's attire or the level improvisation is going to be like. In the classical world it is exactly the opposite."
Also, classical shows are passive: "the audience is expected to focus exclusively on the music, without interacting with the orchestra, not even with the person sitting beside them… in a play, the audience's laughter is part of the positive development of the show; in a pop music concert, people can move around freely, they can talk, dance and cheer…"
"Classical music in the pub: a festive atmosphere, conversations with musicians and other concert goers, and freedom to move
To prove that it is possible to appeal to a younger audience by breaking these barriers, Understanding Audiences has organized a series of wildly successful classical music shows in pubs. Sloboda describes the experience as follows: "a 12-instrument orchestra playing a selection of arias and fragments composed by Handel in a pub, packed with people under 35. People are standing, sitting on the floor, leaning against the walls, having a drink, enjoying the music, but also the musician's explanations about what they're playing, in a festive atmosphere, where the audience is allowed to react freely to what's going on onstage, to laugh, to comment, to move."
The BBC Philharmonic Orchestra has also opted to revamp its programming with new formulas that younger audiences can find more appealing. One of them, says Simon Webb, its General Manager, is taking the music to places where younger audiences feel more comfortable, such as university campuses, with a program that combines classic and more contemporary repertoires.
"In these concerts (the Red Brick Sessions), instead of asking people to turn off their smartphones, we ask them to turn them on, because they can use them to zoom in on the orchestra, follow the score and the programme's notes, and make live comments."
The BBC orchestra also organizes mixed-genre concerts. "Each year we celebrate Philharmonic Presents, a concert in which we play with pop and rock artists, such as the Pet Shop Boys, Boy George, Clean Bandit,  John Grant, The 1975, Jarvis Cocker, Richard Hawley and The XX", says Webb.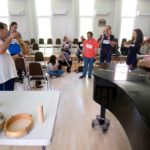 The Sound Mosaic Project's Workshop, developed by the Spanish Association of Symphonic Orchestras (AEOS) in collaboration with the BBVA Foundation and Plena Inclusión
Teaching how to feel music
Former Broadway actor-turned-successful-entrepreneur Eric Booth ended up focusing on artistic and musical education at the Juilliard School in New York. Speaking during the event, he explained how most of people never find the way to activate their own artistic skills.
Music helps hospital patients recover faster, relieves stress and lowers recidivism among former inmates.
And enjoying music brings many benefits, even for health. "It helps hospital patients recover faster, relieves stress, and improves the atmosphere and health indicators at retirement homes. Listening to music lowers recidivism among former inmates and drives commitment among struggling students," he says.
Mikel Cañada, coordinator of the Education Department of the Symphonic Orchestra of the Basque Country underscores that "Spain has been working in this line for years now.  Precisely one of the projects presented during these sessions, Sound Mosaic – developed by AEOS with Plena Inclusión and BBVA Foundation – is a good example of these initiatives: 150 musicians from 14 orchestras work with functional diversity people, to connect them to the musical universe in a creative process. We don't teach music. We make music. The project also encompasses other performing arts, such as dance and theater."