BBVA USA today announced the opening of 11 new branches across five Texas markets, marking a major milestone in an endeavor first announced in June 2020.
The branches, opened in early May, feature updated branch models aligned with the bank's vision of integrating both a digital and face-to-face branch banking experience for customers. The bank's new set of branches can be found in the Houston, Austin, San Antonio, Fort Worth and Dallas markets.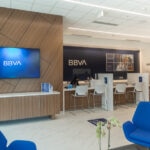 "These branches are a testament to the continuous focus and effort our team has shown over the years to make this a reality," said BBVA USA President and CEO Javier Rodriguez Soler. "Today marked a major win for both the employees who worked tirelessly on this project and the customers who will benefit from these branches. As we begin a new chapter with PNC, I look forward to seeing how much of a positive impact these branches will make in their surrounding communities."
To maximize clients' experience, all branches feature a one-stop-shop Personal Banker bar - a replacement for the traditional teller line - where customers can sit while the same team member that processes their transaction can originate a new account and teach customers about the bank's latest digital capabilities. All branch bankers also have data-driven customer insights for the ability to provide personalized recommendations and have deep, meaningful conversations based on the customer's transactional behavior and relationship. Similarly, branches also feature a dedicated area for bankers to proactively contact bank customers about the bank's latest products or provide a recommendation based on their unique financial situation.
In terms of physical design, branches were structured to boast a smaller layout - with an average size of 2,600 square feet - and are located in retail centers instead of standalone buildings, all to help minimize environmental footprint. In addition, five of the new branches are found in low- to moderate-income neighborhoods to better serve customers in all communities in those Texas markets.
"This project has been a huge undertaking for our teams, and we are excited to see these branches get integrated into PNC's expanding Texas presence," said BBVA USA Relationship Model Discipline Leader Cody Sparks. "To watch these branches and their modern capabilities take form, from abstract ideas to full-service, physical locations, has been both a professional and personal point of pride for myself, my team, and our branch employees. Customers will experience a unique way of banking when they step into these locations and resources to help them be successful on their financial journey - something both BBVA and PNC are committed to, together."
The address of BBVA's new branches are below:
Grand Prairie Branch, 906 West Pioneer Parkway, Suite 350, Grand Prairie, Texas
New Braunfels Marketplace Branch, 717 N. Business IH-35, Suite 160, New Braunfels, Texas
Hutto Branch, 722 US 79 West, Suite 100, Hutto, Texas
Hickory Creek Branch, 4600 FM 2181, Suite 500 , Hickory Creek, Texas
McKinney Custer Branch, 7001 S Custer Road, Suite 100, McKinney, Texas
Crossing Fort Bend Branch, 7414 S Sam Houston Parkway West, Suite C100, Houston
Grant & Louetta Branch, 13105 Louetta Rd., Cypress, Texas
Spring Green Branch, 9615 Spring Green Boulevard, Suite 700, Katy, Texas
Millstone FM 1960 Branch, 2503 FM 1960 E., Suite D, Houston
Park West Branch, 806 Katy Fort Bend Road, Katy, Texas
Grand Parkway Branch, 7627 W. Grand Parkway, Suite 100, Richmond, Texas
In addition, below are additional new branch locations with anticipated openings in late-June to early-July:
Slaughter & South Congress Branch, 8900 S Congress Avenue, Building 3, Austin, Texas
Culebra Commons Branch, 626 West Loop 1604 N, Suite 100, San Antonio
-------------------------------------------
Photos by Archer Sparks Photography
1

Spring Green Personal Banker Bar and Feature Wall

2

Spring Green Waiting Area and Banker Cocoon

3

Spring Green Customer Waiting Area

4

Spring Green Personal Banker Bar and Feature Wall