Valentin Stalf (Number26): "The key to the fintech revolution is in the execution of the ideas"
Leer en español
The world of finance is in the midst of a revolution thanks to the technological breakthroughs in fields such as big data and blockchain, among others. The booming ecosystem of financial technology startups, the so called fintechs, is changing the financial industry's mindset and the way it approaches new customers.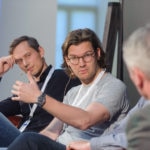 A panel of international experts, including Shamir Karkal, Chris Skinner, Casey Kuhlman, Taavet Hinrikus, and other prominent voices of the sector gathered at Fintech University, a one-day event promoted by BBVA, to discuss the latest trends in fintech from different points of view: legal, entrepreneurial, investor…
Valentin Stalf, co-founder and CEO of Number26, was one of the panelists that debated over the new banking models.
In his opinion, "the difficulty is that it is very hard to go from an idea to really launch a product", most of the agents in the sector face the same challenge and have the same idea. Therefore, he insisted, "it think it's all about the execution."
"And what I see in a lot of the European markets is actually that there are a lot of great ideas but it takes a long time until they can launch. I see that there is still a huge opportunity for fintech," and encouraged entrepreneurs to go for it.
In this interview, held right after the event's conclusion at BBVA's Madrid Innovation Center, Valentin Stalf shares his views about the fintech revolution: