''It's really fast and easy for businesses to become BBVA clients''
Oscar Vélez de Mendizábal (Victoria, 1972), is the head of BBVA Spain's business transformation factory. He's previously held different positions in the business, institution and corporate areas of the Southern Territorial Division.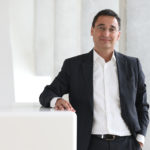 After one year leading the factory's 300 strong team, building the best digital solutions for businesses, he sat down with us to explain how BBVA is, once again, taking the market by storm rolling out a fully-digital onboarding functionality for businesses. With this new solution, the institution has managed to turn a cumbersome complex process into a unique, seamless and streamlined experience.
Q: If as individuals we complain about all the paperwork and requirements involved in becoming a bank's customer, when it comes to businesses, the process is even more complex, does this new digital onboarding feature for businesses really simplify things that much?
A: Up until now, it took about 15 days in average for a business thinking about becoming a BBVA client to get their account and access to our full range of electronic banking features. With this new fully digital service, any business can register with the bank in less than ten minutes, get their bank account and start enjoying our full range of online banking functionalities immediately.
Without paperwork or having to visit a branch, we've developed a truly seamless and quick process for any business thinking about becoming a BBVA client.
Q: Is it a safe process? Verifying the information provided by a business is far more complex just checking an ID card, with much more serious implications, such as the prevention of money laundering activities; how do you verify that the information a prospective client provides during the digital onboarding process is not false?
A: The process is completely secure. To become a BBVA customer, they need to use their sole or joint administrator's digital certificate, issued by Spain's National Mint and Stamp Factory. This trusted certificate allows us to identify the client and simplify the official acceptance of credentials and deeds process. This allows us to significantly expedite the whole procedure without compromising our high-security standards.
Q: Do all businesses in Spain have this digital certificate?
A: It is a certificate that most businesses use in their day-to-day dealings with public administrations. In Spain, we're talking about over 650,000 businesses, representing over 60 percent of the business fabric.
Q: BBVA is a pioneer in the adoption of new technologies, what type of technology is behind this process?
A: At BBVA we're very aware that we don't design solutions for businesses, customers or clients; we design solutions for people. Businesses demand the same things as individuals: simple solutions that meet their needs and help them make better decisions to achieve their business goals. This does not always mean using the most cutting-edge technology at all costs.
It means re-engineering processes from scratch, taking into account the new technological possibilities, but always keeping the focus on what customers need and where they need it
In this case, besides relying on a trusted third-party certificate, such as Spain's Mint and Stamp Factory, we used advanced artificial intelligence mechanisms to recognize and extract information from the documents submitted during the onboarding process, thus minimizing the amount of information customers are required to type in. And we've done this because we consider it the best way to offer clients the experience they're demanding.
Q: There are other digital onboarding solutions for businesses in the market, in what way is BBVA's different?
A: There are other digital onboarding solutions for businesses out there, but what makes our digital process different is, without a doubt, the time involved. Nobody is offering a fully-digital onboarding process that takes less than 10 minutes, with official acceptance of credentials and deeds and immediate access to a fully-operational online bank account and BBVA's comprehensive range of digital functionalities.
And, best of all, during the first 12 months, the client will not have to pay any fees on the account or the associated debit or credit card, and for two of the most common transactions: ordinary transfers and the check cashing and issuing service. Also, this exemption can be extended over time meeting a couple of very simple conditions.
Q: Can this process be improved? Are you working on any further upgrades or do you prefer to devote your resources to other functionalities?
A: This digital onboarding solution that we've just rolled out, which is good for a vast majority of SMEs and businesses, is a first step, but we've still got a lot of work ahead of us.
At BBVA we always start by developing a "minimum viable product", which we improve progressively based on customer and client feedback
We're already working on also offering this solution to businesses with joint legal representatives, or on offering identity verification alternatives to also implement the feature on our mobile app.
Q: Finally, what have been the high points or what's struck you the most during your first year leading the business transformation factory?
A: I would say how passionate and excited we are all about building the future of business banking. We were the first bank to commit to mobile also for businesses, and today, we already have the best rated app, boasting the most comprehensive set of features in the market. We recently took another huge step by allowing companies make payments from any linked account through BBVA One View, our smart account aggregator for businesses.  They can now check the balances of all their linked accounts from one convenient place and choose one to use to make a payment, based on their cash flow forecasts, from the same application and enjoying the same user experience. Nearly 100,000 businesses are already using BBVA One View. We're very excited to see how these solutions make business owners' lives easier.