More and more companies are looking to grow through the creation and adoption of proprietary technology solutions. Tech intensity is an indicator of a business' capacity to innovate in a landscape where digital skills and tools are a must-have in virtually every sector.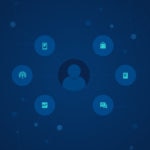 Agriculture, automotive, healthcare, and banking. Also trade, logistics, and energy. Even education, construction, and tourism. Digital technologies have reached nearly every industry. In a context where businesses worldwide compete to stay on the cutting-edge of new technology adoption, a new concept is gaining ground: technological intensity.
The term, recently made popular by Microsoft, refers to a company's capacity to grow not only through the adoption of external technologies, but also by building their own digital technologies. According to Microsoft, this concept could be a representative indicator of a company's ability to innovate within the current landscape and its potential to adapt to changes thereby ensuring its future success.
Gloria Macías-Lizaso, enterprise commercial lead at Microsoft Spain, has no doubt that "this decade will be defined by tech intensity." The U.S. company has published a study based on interviews with more than 700 companies, which underscores just how relevant this new approach has already become within the current business climate. Seventy-three percent of the companies interviewed say they are already building technology from their intellectual property and developing new digital capabilities based on technologies such as artificial intelligence, data science, the Internet of things, blockchain, and mixed reality. Furthermore, 75 percent of companies surveyed maintain that committing to tech intensity is the most effective way to create a competitive advantage today.
The study clearly reflects that, as  organizations enter the new decade, they are moving beyond merely adopting the latest technological applications; rather, "they are developing internal digital capabilities that help them feed their success and gain competitive advantage," Microsoft asserts in the report it released. 
Human capital
Macías-Lizaso talks about one of the more interesting conclusions of the study, "that  embracing tech intensity is only possible if it is accompanied by a cultural change within the organization, moving towards a culture that encourages change and innovation." This new approach is also an important factor when companies are trying to attract new talent. Macías-Lizaso explains that, according to recent data from LinkedIn, 60 percent of job offers for developers are posted by non-technology companies: "Organizations must build their intellectual property based on innovative technologies that give them a true competitive advantage. But they will only be able to create these proprietary technological products and services if they have a workforce that is trained to do so."
Given this landscape, Microsoft believes that as innovation reaches new industries, all companies will have to become technology companies. In an article published on LinkedIn, Microsoft CEO Satya Nadella outlined some examples of what happens when companies from around the world and across different industries commit to this approach. "In a world where every company is becoming a digital company, we see examples of organizations in every industry embracing tech intensity to thrive and maximize their impact," he wrote. Spain's Repsol is among such organizations. The global energy company intends to transform its service stations into smart spaces where it will offer its customers a better user experience. By leveraging the Internet of things and the cloud, the company's employees can use their mobile devices to confirm in real time what is happening at the pumps of their filling stations, in the car wash facilities, in their shops, and even on the Repsol race tracks.
"Las organizaciones deben generar propiedad intelectual basada en tecnologías innovadoras que les proporcione una auténtica ventaja competitiva"
Meanwhile, Volkswagen is using technology to deliver new, personalized experiences in connected vehicles; and the transportation group, Grab, has deployed artificial intelligence in an effort to improve passenger safety. The agricultural company, Bühler, has built its own solution to identify toxins in grains that could damage the rest of the crop.
Aviation's Airbus has also made strides, adopting technological intensity in order to help its employees work more safely and efficiently. Among other innovations, it offers mixed reality solutions that combine the physical and digital world. The end goal is to enable its aircraft design and manufacturing workers to access information while they are busy at work, working with holograms just like they would with real, physical objects.
In the banking and finance sector, Macías-Lizaso draws the connection between digital transformation and the adoption and development of new technological capabilities, especially those related to advanced data analytics. "In today's environment, financial institutions no longer aspire only to adopt the most advanced and innovative technology; they are seeking to become authentic digital organizations. To this end, they have created and continue to develop their internal digital capabilities," the Microsoft expert explains.
Specifically, the use of artificial intelligence algorithms will help banks and other financial institutions make better decisions, reduce risk, and provide increasingly personalized customer service. This, she explains, will lead to increased business growth and greater customer loyalty. "Technology is undeniably changing the financial industry, and it is equally certain that just about the only thing changing faster than banking is customer expectations.  They are looking for fast, seamless, and  immersive digital experiences that meet — and even anticipate — their needs," Macías-Lizaso concludes .