Commercial drones are taking over the market. The first barrier –price– is now disappearing, thanks to interest from companies and consumers. The figures bear out the attraction of unmanned aircraft: deliveries of drones to consumers all over the world is expected to exceed 7.3 million in 2016 and to hit 29 million by 2021.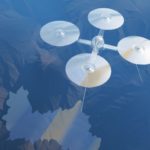 United States is the largest potential market for commercial unmanned aircraft, followed by Europe and China. Paradoxically, the US has historically trailed behind Europe in terms of drone uptake, due to the slow progress of its regulations. Europe had over 2,500 commercial drone operators in July 2015, compared to 1,000 in the United States.
BI Intelligence expects the sales of drones to reach 12 billion by 2021. That implies a compound annual growth rate (CAGR) of 7.6%, up from 8.5 billion in 2016.
What are the keys to this boom?
Price is a determining factor. Low-cost toy drones are gaining in popularity for recreational uses. In the US, the Consumer Electronics Association (CEA) reports that 700,000 drones were sold last year, up 63% from the year before.
BI Intelligence predicts that the deliveries of consumer drones all over the world will exceed 7.3 million in 2016, making them very nearly a product of general consumption.
Which companies lead the market?
In 2015, the consulting company Frost & Sullivan estimated that DJI, headquartered in China, had a 70% share of the market for commercial and consumer drones. Their Phantom are right now the most popular drones in the world for both commercial and consumer uses; they are known for their reliability and their excellent photography and video capture. Although DJI estimated revenues of more than one billion dollars for last year, several smaller players are seeking to undermine the dominance of DJI:
3D Robotics, a startup headquartered in California, last year launched its Solo drone (for 800 dollars) for commercial and consumer applications. It has high on-board processing power and can autonomously carry out complex flight maneuvers. For example, users can make the drone perform a 360° turn, circle an object, or turn backwards and forwards by simply pressing a button on the remote control. However, it doesn't include a camera, although users can install a range of compatible cameras.
Lily, also headquartered in California, this year won an innovation award at the Consumer Electronics Show (CES) for its drone Lily (priced at 1,000 dollars). The company last month announced it has 60,000 orders for its unmanned aircraft, for a total amount of 34 million dollars. The small drone makes videos autonomously, while it moves around the user with a small location device.
Yuneec offers a series of high-end drones that compete with DJI's Phantom 3 series. The Hong Kong manufacturer is making significant efforts to give its unmanned aircraft more autonomous flight capability. For example, it announced at the CES that the company's Typhoon H model (priced at 1,700 dollars) will be equipped with Intel's Realsense technology to avoid obstacles. What's more, the company announced it would be the first unmanned aircraft manufacturer to install Qualcomm's new Snapdragon flight chips. The chips offer support for autonomous navigation and detecting obstacles and help flight autonomy.
Parrot, a startup based in France, specializes in low-cost unmanned aircraft for enthusiasts and beginners. Loro has several toy drones without cameras, and late last year it also launched the Bebop 2 (at 550 dollars), a new light version of their camera-carrying drone. It also unveiled its fixed-wing Disco drone at this year's CES, which takes off simply by throwing it in the air and can land on the ground unaided, making it easy for beginners.
The GoPro action cameras are the most popular camera models installed in 3D Robotics drones. GoPro plans to launch its own unmanned aircraft, Karma, in late 2016. GoPro has published very few details about the new model, but it will probably offer 4K video capture like many of its competitors' drones. It may also have the capacity to record 360° videos, which would set it apart from its competitors. The recognition of the GoPro name will probably help the company quickly make a space for itself in the consumer drone market.
All the models are able to capture aerial videos and photographs, unlike the smaller toy drones that can only fly. That makes them very popular for both consumer applications and video surveillance drones for companies.
Another point worth noting in that there is now an overlap on the market between commercial and consumer drones. For example, the DJI's Phantom 3 drones are popular among professional photographers and consumers who take personal videos and photos.
In 2014, according to ABI Research, camera drone models accounted for almost 70% of the unmanned consumer aircraft market. This market has attracted interest from Intel and Qualcomm –two of the largest manufacturers of chips in the high-tech industry.
Both companies offer hardware and  software components for drones, including computer chips designed to help process images. They also provide cameras –such as Intel's Realsense– which are capable of scanning the drone's surroundings in seconds to help it avoid obstacles.
There is no doubt that the golden age of drones is dawning.