Many corporate sectors are turning to new technologies to improve their business models. Big cities are no exception and are introducing the Internet of Things to improve their citizens' quality of life.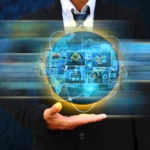 The Internet of Things (IoT) has infinite uses for cities, ranging from modernizing citizens' mobility to improving healthcare. IoT is a concept that describes the interconnection among several devices, from a washing machine to a book. Its goal is for different appliances to communicate with each other, making them more intelligent and independent. In order to achieve this, the protocol IPv6 must be used, which makes it possible to receive and send data packages to each device connected to the network.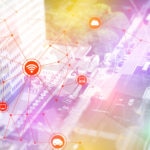 One of the main uses of the Internet of Things is making cities more intelligent, and therefore, more efficient. One of the cities that bet on IoT from the beginning was Barcelona. It started employing different technologies that use urban networks, such as transportation and street lights.
Another city that stands out is Chicago, which installed a series of interactive sensors to obtain real-time information on the weather, air quality, humidity and air pressure, among other things.
IoT by area
The use of IoT is becoming increasing extensive in so-called "smart cities", so it's important to classify its use by area:
Mobility: The Internet of Things allows City Councils to better understand the transportation needs of their citizens. This information makes it possible to establish new strategies to improve the urban transportation system.
One of the main mobility problems big cities encounter is traffic. Some cities have replaced traditional traffic lights with intelligent models that prioritize sections of roads with more traffic. This type of traffic light can also cut down on the number of accidents. For example, if you drive past an intelligent traffic light faster than the speed limit, your car will slow down.
Aarhus, Denmark, has installed intelligent road signs that are updated by citizens themselves. These signs report on the fastest roads and areas with the most traffic.
Some cities have also started developing mobile apps to give citizens real-time information on the transportation means they use on a daily basis. For example, the app Moovit, present in 500 cities, gives real-time data on your route, letting you know what time your bus will arrive, where there are free parking spots, etc.
Energy efficiency: Several cities around the world have reduced their energy use by replacing traditional street lights with intelligent models. It's a technology that programs when lights should be turned on and off based on how citizens use the street lights. This can reduce energy use an average of 30%, although Oslo managed to reduce it by 62%.
Intelligent networks are also expected to be created that can help community buildings save more electricity and manage electric vehicles that need energy.
Citizen services: When correctly used, technology can help improve residents' quality of life as the city's planning and forecasting improves.
The Internet of Things and the predictive data analysis it offers makes it possible to anticipate problems and therefore, have a greater and better response capacity when unexpected events occur.
For example, IoT can improve the efficiency of some airport services. For example, Samsung and Samsonite are creating a project to develop intelligent suitcases. They will be capable of warning the owner on their smartphone if someone tries to steal their luggage, for instance. They will also have a motor so that your suitcase will follow you. It seems that dragging your luggage down long hallways will be a thing of the past.
Another service that also improves with IoT is access to gyms. Specifically, IoT is one of the main reasons behind the rise of low-cost gyms, as installing sensors drops employee costs, lowering the price of these services.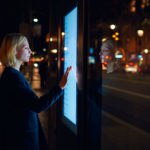 Waste management: The Internet of Things greatly simplifies waste management. Many citizens are already investing in the purchase of trash cans with WiFi and garbage compactors that run on solar energy. Both have sensors to tell trash trucks when they are full. Just like in other areas, this information improves management and avoids a loss of time and resources.
Shanghai managed to improve waste management thanks to IoT. Now the weight, volume and type of waste in each container can be estimated thanks to a sensor and camera. The sensors can also detect waste that would be dangerous for incinerators.
Food waste: According to a report by the Food and Agriculture Organization (FAO), 30% of food is wasted. The Internet of Things can help improve this problem by optimizing distribution chains, improving the traceability and quality of food and augmenting the expiration dates.
Intelligent labels are starting to be created that make it possible to increase the amount of time food can be stored, as well as the expiration date. Consumers will also have more information about what they consume with the 2D GS1 labels, which include more information about the origin and production date.
Healthcare use: The European Commission's INTER-IoT project intends to apply IoT technology to make healthcare more efficient. This plan will reduce waiting time in Spanish health centers, which will optimize hospital management and improve remote patient care.
Given that IoT improves energy efficiency and mobility, as previously mentioned, cities' CO2 emissions also decrease, improving citizens' health.
Natural disasters: Environmental sensors can predict this type of catastrophes before they occur, in attempt to reduce the number of casualties and material losses.
For example, an early warning system using WiFi and 40 different environmental sensors was installed in the Garrotxa volcanic area in Girona, Spain. This technology allows experts to identify different variables, such as temperature, humidity, or carbon monoxide levels, in order to mitigate the effects of these disasters.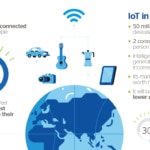 There are enormous benefits of introducing the Internet of Things in cities, but there are also critics who say it could affect citizens' privacy, as the sovereign owners of the information. However, the proper use of this knowledge is enabling the discovery of more and more applications that add value to the lives of city residents.
The drive for an open culture and innovation: Obtaining, combining, processing, utilizing and sharing all the information society generates in order to develop different services. In order to make this a reality, consensus is needed, as is creating new possibilities for governments, companies and citizens.
Open data and information is essential in this new culture. Institutions that have this knowledge have an important role to play in making it available to society. However, it's important to take data protection and security into account. Data can be shared anonymously as BBVA does with its open API plataform.
Sources: Data Smart City Solutions, Telefónica, Enigmedia, Greenbiz, Ticbeat y Schneider