BBVA ambassadors: Alejandro Garrido, chasing a dream
You never know what job you'll end up doing. Alejandro Garrido ―BBVA Provincial― is living proof of that. He decided to make a radical career change.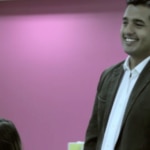 Alejandro studied industrial engineering in college. However, today he is the head of Digital Sales at BBVA Provincial in Venezuela, although he started at the Security and Labor Health unit in the bank. That's where he launched his first campaigns to announce security initiatives. "I realized I liked it," he explained. That's what inspired him to follow this career path. And he got right down to work: "The first thing I did was to get a masters in marketing, while I continued to work as an industrial specialists."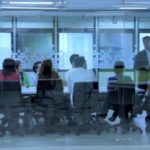 His first opportunity didn't take long to arrive when he was setting up the Social Media unit in the bank. "I told my boss and co-workers about my interests and they encouraged me to apply for the position through the Apúntate tool."
"I struck out in an entirely different direction," because it involved news ways of working and new co-workers. "Of course it wasn't easy at the beginning. I even moved to a different apartment!" he said. "It was a real challenge. But it was something I had wanted to do. In the end, I grew as a professional, gained knowledge and grew in general, even in my social circles."
However, his dream was still to get more directly involved in marketing. "I realized that online marketing was developing faster. I thought there was brighter future there and that's why I focused on digital marketing."
Alejandro obtained masters in digital marketing and his efforts were rewarded: he finally joined the bank's Digital Marketing unit.      
"It's not easy to get outside of your comfort zone. At first you have doubts. But you have to do it." 
Profile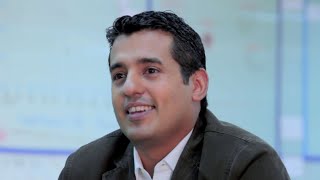 Name: Alejandro Garrido
Position: Head of Digital Sales [BBVA Provincial – Venezuela]
Function: Offer our customers products anyway they want to use them
Hobby: Scuba diving
Dream: Give my son, at the very least, all the support my family gave me
OVERCOMING YOUR FEARS
Alejandro thinks it's normal to be afraid when making such a dramatic career move. "It's not easy to go outside of your comfort zone. At first you have doubts. But you have to go through with it." He says it isn't a good idea to overanalyze it. "You have to make changes at the right time. Waiting only raises more obstacles and fears. You have to keep moving forward and get proper training to face the challenges." However, you must be prepared and committed: "If you want to be the best in your field, you have to make that extra effort. You have to build what you're striving for, it won't just come to you."
He has made adapting to change a question of survival, as Charles Darwin would say. "We have to adapt to changes, make them come true and see the positive side of things, the opportunities they afford us. New apps are coming out every day. Things that used to look weird now form part of our everyday routine".
PAST IS PROLOG
Alejando told us that no matter our dramatic the change may seem, in the end there is always a connection to the prior situation. He uses himself as an example: "I use my background in industrial engineering to analyze the processes involved in creating and distributing products and finding areas we can optimize. In the end, I'm doing the same thing: optimizing a digital product that is created with a raw material, which would be the codes, which is then sent to a distribution chain, which is the social networks."
We have to adapt to changes, make them come true and see the positive side of things, the opportunities they afford us
Although he does admit that "changes are occurring at a much faster pace than before. The younger generations are already used to it. Actually, it's a matter of knowledge, taking chances. Because even older people adopt these changes once they are familiar with them."
Despite so many changes, he says he still "wants to keep developing projects and growing, because I enjoy it. I want to learn more about digital marketing. And if other technologies become important in the future, I'll be there. Anything that means moving forward and being involved in the changes taking place in the world, I want to be part of it."