The BBVA Group is the only Spanish bank ranked in the Fortune 2019 annual 'megabank' list, which distinguishes it as one of the "World's Most Admired" financial institutions. This is the fourth consecutive year the Group is included in this exclusive ranking.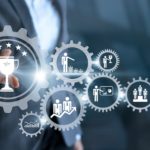 Fortune's list examines different companies within 52 categories, based on the analysis of key reputation attributes, including innovation, social responsibility, product quality and global competitiveness. This year, BBVA was listed in the 'megabank' category, which consists of the world's top 16 financial institutions, including JPMorgan Chase, Bank of America and Citigroup. Of all the reputation attributes that the report analyzes, it was in quality of management that BBVA stood out the most.
Fortune partnered with global management consulting firm Korn Ferry to determine which were the year's best-regarded companies in 52 economic sectors. Korn Ferry surveyed thousands of executives, directors and analysts about enterprises in their own industries, looking at nine criteria, from innovativeness, long-term investment value, wise use of corporate assets, the quality of products and services to financial soundness and ability to attract talent.