BBVA's unit in Switzerland, together with Urban Connect, will debut their corporate fleet of e-bikes to be shared among the bank's Zurich-based employees.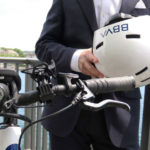 BBVA Switzerland seeks to promote sustainable mobility initiatives among its employees while encouraging physical activity and a healthy lifestyle. The bank's Zurich-based employees can now get to work on electric bicycles that help reduce the environmental impact of commuting. The initiative is part of an agreement with Urban Connect, a leader in corporate sustainable mobility solutions, which provides its services to companies such as Google, Roche, and Avaloq.
BBVA Switzerland's employees can use a simple mobile application to reserve the eco-bicycles, which will be available in the bank's parking area. Each of the eco-bikes is decorated with BBVA's corporate logo and comes with helmets, which are mandatory when riding in the city. They are connected by GPS to a cloud-based ebike management platform that keeps track of each bicycle's location, monitors the status of its battery, and schedules check-ups and maintenance. In addition, the app extracts usage data and measures in real time how much CO2 emissions have been eliminated.
E-bikes help reduce congestion on public transportation, improve urban traffic and save time during commutes. They can reach speeds similar to mopeds and have dedicated bike lanes in Zurich.
In 2018 BBVA ran a similar initiative for employees in Switzerland with the 'Bike to Work' campaign.
Switzerland, a cycling paradise
Switzerland has excellent bicycle lane infrastructure to ensure safe cycling in addition to numerous parking facilities. ETH Zurich University recently launched the Mobils study, which revealed that in recent months, cyclists traveled three times further compared to an analysis of the data for the same period last year
Public transportation use has been tempered due to COVID-19, resulting in a significant uptick in the use of bicycles, more so than other forms of transportation including the train, trams, and buses.