As part of its ongoing efforts to accelerate transformation by growing its portfolio of digital businesses, BBVA has signed an agreement to acquire Mexican startup Openpay, a company that offers a broad range of advanced online payments solutions and functionalities.
Openpay is a payment service provider (PSP) that facilitates e-commerce, including on mobile devices, for large businesses and SMEs. It combines a cutting-edge, real time platform that allows users to make card, cash and loyalty-points payments and banks transfers in a single integration. The Openpay platform also uses advanced tools to prevent fraud. The company operates in Mexico through Paynet, its own global network consisting of more than 12,000 associated points-of-sale, which also allows cash payments for online purchases. Openpay is set to end 2016 with a positive financial result.
With this operation, BBVA Bancomer, which is already collaborating with Openpay, increases its range of online payments solutions, while allowing Openpay to strengthen its commercial firepower by joining forces with Mexico's largest bank.
E-commerce is on the rise around the world - and in Mexico in particular - driven by tremendous growth in digital payments, the adoption of the smartphone as method of payment and credit card penetration. This context offers BBVA substantial opportunities for growth. Co-founders Roberto Bargagli, Eric Núñez and Héber Lazcano will continue to manage their team from Openpay's offices in the state of Querétaro.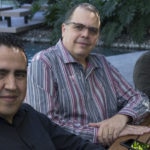 Openpay's cofounders Héber Lazcano, Roberto Bargagli and Eric Núñez.
BBVA's acquisition of Openpay marks another step in the BBVA Group's transformation journey, and reinforces one of the bank's strategic priorities: setting a new standard in customer experience. For Derek White, Head of Customer Solutions of BBVA, "This operation will allow us to remain at the cutting edge of payment systems. The operation will also bring numerous benefits for our customers."
According to BBVA Bancomer General Manager Eduardo Osuna, "Openpay is the next logical step within BBVA Bancomer's aim to offer innovative, user-friendly payments solutions. We are very happy to welcome the Openpay team onboard, and we are eager to start working with them." For Openpay co-founder Roberto Bargagli, "This acquisition shows BBVA's commitment to digital transformation and it is an example of how fintech firms and banks are going to revolutionize the global ecosystem together. We will work with tremendous enthusiasm to take advantage of this huge potential."
Acquisitions and investments are an essential part of BBVA's strategy. In March 2016 BBVA acquired Finnish startup Holvi. And in 2015 it bought a 29.5% strategic stake in Atom, the UK's first mobile-only bank, and completed the purchase of Spring Studio, a San Francisco-based leading UX and design firm. In 2014, BBVA acquired Madiva Soluciones, a big data startup and Simple, a tech firm that has changed the way people manage their money in the U.S. BBVA is also an investor in venture capital firm Propel, which manages BBVA's interests in startups that are changing financial services through technology.