BBVA collaborates with Amazon Web Services and Bloomberg to develop a new technology to boost its equity business
BBVA, in collaboration with Amazon Web Services (AWS) and Bloomberg, has developed a new cloud-based technology for the equity markets area of its Corporate & Investment Banking unit. The bank has created 'BBVA C-fit', a platform built around AWS and Bloomberg technologies, to provide its equity trading team with one of the most cutting edge platforms available in the financial markets sector.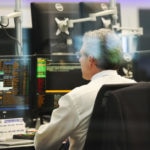 In today's environment, where seamless access to market information and the ability to handle increasingly vast volumes of data is essential, investing in innovation and infrastructures is becoming more and more critical in order to deliver the highest quality service to customers while minimizing and monitoring market risks.
'BBVA C-Fit' represents another step forward in BBVA's digitization journey. The goal of the platform is to boost the equity team's efficient and robust risk management capabilities, as well as to significantly expand the range of quality services that it can deliver to clients through the digitization of solutions.
'BBVA C-Fit' can host all the processes of the equity desks related to the marking and management of market data used to set prices or manage book risk. The platform's groundbreaking design allows for a tremendous growth potential, not only in terms of scalability and elasticity, but also in the deployment of other critical functionalities in the activity, such as mass pricing of products for their distribution through electronic channels.
What sets 'BBVA C-Fit' apart from other similar platforms is its design, which combines technologies such as Amazon Elastic Kubernetes Service and Amazon Managed Streaming for Apache Kafka with Bloomberg's B-PIPE, to render real-time direct access to market data over the cloud. From a technical standpoint, the platform incorporates some of the latest technologies for designing and developing microservice-based web apps, as well providing access to market leading data from Bloomberg.
Investing in new technologies is key to underpin our market-leading position and keep delivering world-class investment solutions
Roberto Vila, Global Head of Equity at BBVA, comments: "BBVA C-fit is another example of BBVA's efforts to strategically transform the equity business into a client franchise, leveraging on technology, and with a clear focus on the manufacturing of investment products."
"Cloud adoption in the financial industry has evolved such that access to reliable, high quality data delivered in real-time is the new baseline," says Cory Albert, Global Head of Cloud Strategy for Bloomberg's Enterprise Data business. "With worry-free cloud access to B-PIPE's market data, BBVA's development teams can focus on scaling their projects to provide analytics that would be difficult to attain in an on-premises environment."
Financial markets and transactions are shifting at a fast pace, so investing in new technologies is key to underpin our market-leading position and keep delivering world-class investment solutions. BBVA has chosen to face this challenge with the collaboration of top-level technology companies such as Bloomberg and Amazon Web Services.