BBVA Compass has spent the spring covering markets in its footprint with promotional campaigns promising special offers and family-friendly fun, and it won't stop until every branch has been covered.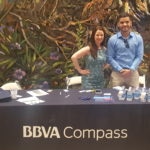 The two-week intensive market blitzes underscore the bank's mission to create opportunities by offering products and services that help people take control of their finances and establish brighter futures.
"With this promotion, we're literally getting out in front of our clients and prospects to show them what we're all about and how we can help them improve their financial lives," said Chief Operating Officer Rafael Bustillo. "We're coming out from behind the counter and taking it to the streets to show that we're not just another bank—we're a bank that's fully vested in extending the age of opportunity to everyone."
We're coming out from behind the counter and taking it to the streets
As part of each market blitz, team members pound the pavement to distribute flyers that promote special product offerings and community events. The product promotions include special offers, such as $200 cash for opening a new checking account, mortgage discounts, and great offers for small business clients. Each market also features family-friendly branch events that include family-friendly activities like food trucks, face painting, popcorn and cotton candy.
"This is a really special opportunity for people to learn more about who we are," Bustillo said.
Interested consumers can visit www.bbvacompass.com for more information on the products and services offered by the bank.