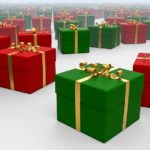 So as the calendar days in December pass you by, let BBVA Compass help you manage your budget, potentially earn points or even help you make some memories with some large purchases this holiday season.
Here are a few BBVA Compass products that can help you along the way:
BBVA Compass ClearPoints Credit Card:
Is your holiday list extremely long? That means the gift bill is going to rack up. Here's your chance to earn points while you spend, then! The BBVA Compass ClearPoints Credit Card is a simple, flexible way to earn rewards while you buy toys, video games, or – dare we say – ugly sweaters. You're in luck with a special offer as well.  You can get $100 account credit when you make $1,500 in Qualifying Purchases in the first 90 days.*
BBVA Compass Mobile Banking App:
Imagine something that has won multiple awards and can help you manage your holiday budget, all in your winter coat pocket. It's possible with the BBVA Compass Mobile Banking App, a three-time winner of Javelin Strategy & Research's Mobile Banking Leader award. Most recently, it was recognized as a leader in the "ease of use" category in Javelin Strategy and Research's 2017 Mobile Banking Scorecard. With easy bank account management, payments and transfers, and mobile check deposit,** it has all the tools you need to manage your finances as you purchase that state-of-the-art go-kart for little Timmy.
To twitter
Need to fund a purchase for a ring? @BBVACompass Express Personal Loan can help. #CreatingOpportunities
BBVA Compass Mortgage Products:
Holiday shopping for gifts under the tree isn't the main source of spending. According to MoneyTips.com, there are plenty of reasons to buy a home during the holiday season.  BBVA Compass has a dedicated team to help you in your home-buying process, and can even guide you if you want to build from the ground up. ***
BBVA Compass Express Personal Loans:
WeddingWire.com lists multiple days in the coming weeks as the most popular times for marriage proposals. Need to fund a purchase for a ring? Take a look at what BBVA Compass Express Personal Loan has to offer. Even if it's not for a symbol of marriage, this product can potentially help you fund some of the most treasured moments in your life.****
Happy Holidays from BBVA Compass!
*SPECIAL OFFER: All credit cards subject to approval including credit approval. $100 account credit offer not available to existing BBVA Compass credit cardholders. Offer applies to accounts open between 10/1/17 to 12/31/17. $1,500 in Qualifying Purchases must be made within 90 days of account opening to be eligible for the $100 account credit. Account must be open and in good standing at the time account credit is awarded to receive the account credit. A "Qualifying Purchase" is any purchase made with your BBVA Compass Visa Card and that is processed or submitted through the Visa U.S.A. Inc. payment system.    Promotional offers subject to change without notice.  Payments of existing card balances, balance transfers, cash advances, ATM transactions, convenience checks, fees charged by us (for example, finance charges, and related service charges, if any apply), purchases of prepaid or reloadable cards such as certain gift cards, purchases of quasi-cash items (for example, casino chips), and purchases of cash equivalents or payment instruments that can readily be converted to cash (for example, travelers cheques, money orders, wire transfers, and similar products or services) are not Qualifying Purchases.
** Mobile Deposit is subject to eligibility and further review. Deposits are subject to verification and not available for immediate withdrawal. Deposit limits and other restrictions apply. See Terms of Use for details, including information on funds availability. Mobile Deposit® is a registered trademark of Mitek Systems, Inc.
*** Compass Bank is a Member FDIC and an Equal Housing Lender.  BBVA Compass is a trade name of Compass Bank, a member of the BBVA Group. NMLS ID 402936.
**** Loans are subject to eligibility, underwriting, and approval, including credit approval. The offered APR will vary between 6.07% and 35.06% APR based upon creditworthiness, loan amounts, term length, and amount of Interest Surcharge. Quoted APRs do not include interest rate discounts. Enrollment in auto-debited loan payments from a BBVA Compass checking account is required to receive a 1.00% interest rate discount and the BBVA Checking Account must be opened prior to the loan being finalized. Enrollment in the Premier Personal Banking Program at the time the loan is finalized is required to receive a 0.25% interest rate discount. You must pay an Interest Surcharge ("Surcharge") at loan closing. The Surcharge amount will be deducted from your loan proceeds, so the loan proceeds distributed to you will be less than the full amount of your loan. An unsecured term loan may not be originated for any applicant who has originated or been declined for an unsecured term loan with BBVA Compass within six months of the date of the new application or who currently has two or more active unsecured term loans with BBVA Compass.