From the ground up – what BBVA Compass offers consumers constructing their own home
BBVA Compass National Mortgage Sales Manager Eduardo Castaneda has been in the mortgage business for over three decades, and can pour a vast amount of information on the subject at a moment's notice.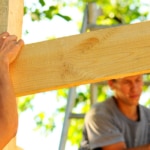 We're going to guide our customers step-by-step.
"What gives BBVA Compass an advantage is our hands-on services throughout each layer of the construction process," said Castaneda. "We're going to guide our customers step-by-step. It could be a complicated process, but we're there for our clients to guide them. We even watch the construction to check on the advancement of the work – we will make sure the work gets done before the contractor gets paid step-by-step. They don't get paid up-front – they get paid at each milestone."
Before construction gets underway, however, Castaneda has a few words of advice on things people may or may not think about before constructing their residence. For example, consumers need to make sure after they secure their plot of land, that they compare prices, quality and proposals from multiple contractors.
"You want to make sure that you can actually see the quality of homes that these contractors have built, and they'll give you a tour," he says. "And ask for references. Ask for someone who lives in a house they've actually built and get their thoughts on their work."
Besides the advice that consumers can get from the bank when constructing their home, other advantages from BBVA Compass include the wide array of products that can fit into multiple situations. For example, the bank can offer products for a range of families, including low-to-moderate income households with the HOME program launched in 2015.
"The personalized service for our customers helps them not feel like they're alone, they have someone they can confide in," Castaneda says. "We have certified mortgage banking officers. Not every mortgage banker can do a construction loan at our bank, you have to be certified. You have to be trained; you have to have the knowledge and the experience to handle our clients' home construction process."
Click here for more information on BBVA Compass' mortgage products.