BBVA Compass Iron City Showdown brings the Houston Rockets and the Memphis Grizzlies to Birmingham
BBVA Compass and the Houston Rockets teamed up on Thursday, May 3, at a press conference held at the Alabama Sports Hall of Fame to announce the date, location and opponent of the BBVA Compass Iron City Showdown.
The preseason game, which was initially announced in August 2017 by Houston Rockets superstar James Harden in front of 800 Parker High School juniors and seniors, is slated for October 2 at 7 p.m. at the Birmingham–Jefferson Convention Complex against the Memphis Grizzlies.
Rockets legend Robert Horry announced the new developments at the press conference, which also included a commitment from BBVA Compass about the court refurbishment it is undertaking in celebration of the game and Birmingham's communities at Legion Field. In keeping with the theme of creating opportunities in Birmingham, Robbie Robertson, President and CEO of Colonnade Group also announced that a portion of game proceeds will go to the Alabama Sports Hall of Fame and the Birmingham Athletic Partnership.
"This is more than a single evening game to everyone involved in making this possible," said BBVA Compass Birmingham CEO Andrea Smith. "This is about creating opportunities for the city, its people and its communities in the days and months leading up to it. Birmingham will be in the spotlight, but not just that evening. The game will also be a platform to elevate the city in multiple ways."
This high-profile NBA preseason game will bring together fans and families from across the Birmingham area beginning with events over the summer, such as a 3-on-3-basketball tournament and interactive fan basketball themed games at summer concerts throughout the city, culminating on October 2 with a fan event preceding the BBVA Compass Iron City Showdown.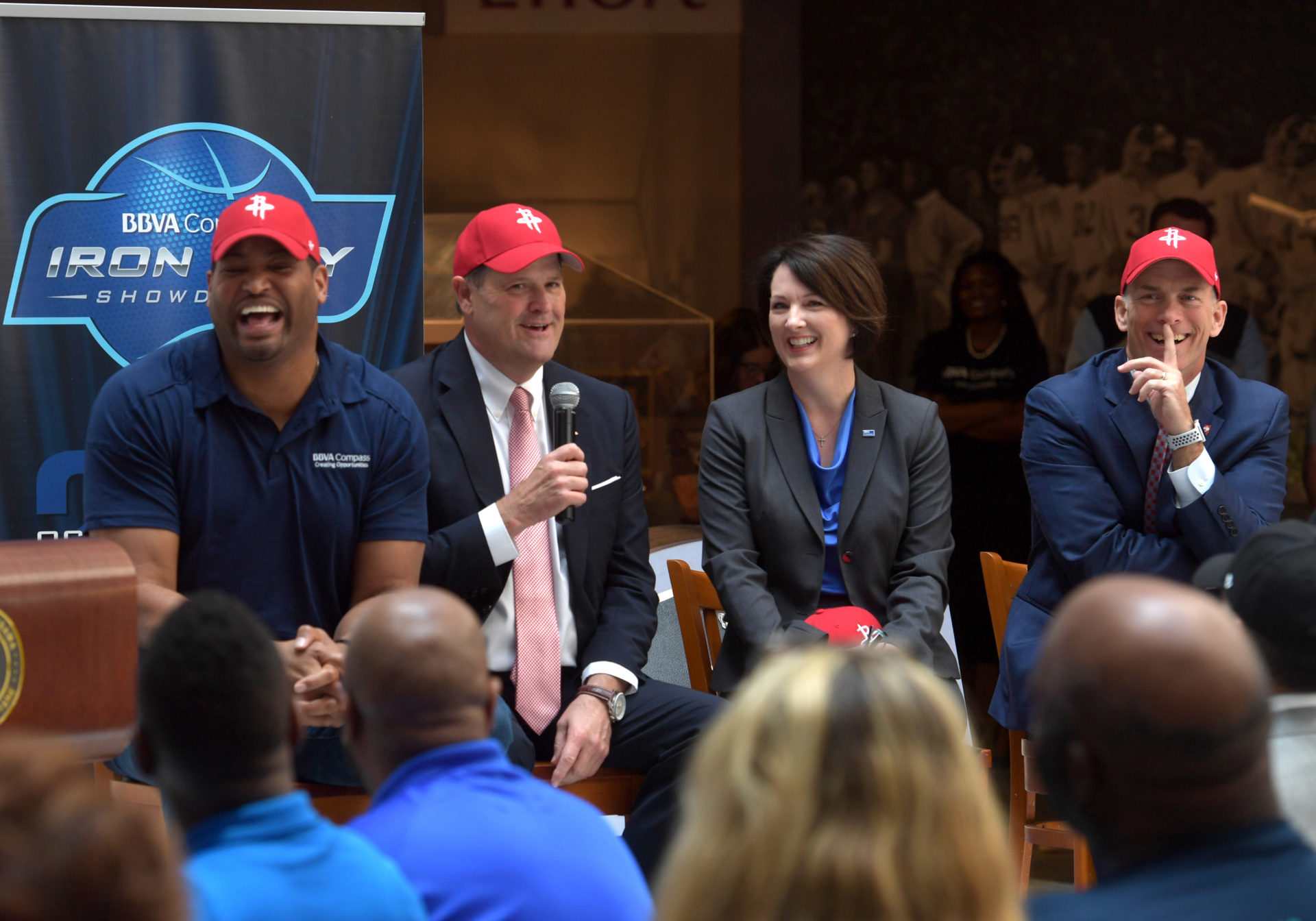 To twitter
BBVA Compass & Houston Rockets announced the Iron City Showdown date, location and opponent on May 3.
Horry, a two-time champion with the Rockets who boasted a 16-year professional basketball career, and who was an All-SEC forward at the University of Alabama, was the last to speak at the press conference, announcing the game's opponent, date and location.
"I basically grew up in Alabama, so to be here and be part of this announcement for the city of Birmingham was special for me," said Horry. "I've teamed up with BBVA Compass many times, and every time I do, it's for something that is going to improve the places they call home. This is no different. I'm ready to see some high quality basketball action at the BJCC."
Starting today, fans can purchase tickets to the game, which start at $15, and find out more about events and other promotions leading up to the game, including a 3-on-3 summer basketball tournament, by visiting www.IronCityShowdown.com. The game and related promotional activities will also be made possible with the help of the Colonnade Group and Summit Media.