When BBVA Compass, in tandem with the Colonnade Group and Summit Media, announced the BBVA Compass Iron City Showdown, a pro basketball exhibition game between the Houston Rockets and Memphis Grizzlies to be played in Birmingham, Ala., it emphasized that the game would also focus on community involvement.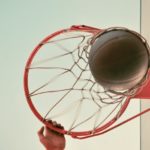 "This is more than a single evening game to everyone involved in making this possible," said BBVA Compass Birmingham CEO Andrea Smith during the announcement at the Alabama Sports Hall of Fame. "This is about creating opportunities for the city, its people and its communities in the days and months leading up to it. Birmingham will be in the spotlight, but not just that evening. The game will also be a platform to elevate the city in multiple ways."
One of those opportunities came to fruition this past week, when the Iron City Hoop-A-Palooza officially tipped off at John Carroll High School on July 21. Hoop-A-Palooza is a 3 on 3 basketball tournament that will welcome basketball fans of all ages and skill levels to Birmingham this summer and leading up to the October 2 game. CrossPoint Church will serve as the host site for additional games on July 28.
Robert Horry gave his thoughts on the Iron City Showdown and the events that come with it, like Hoop-A-Palooza, when BBVA Compass External Communications reached out to him. Horry took part in the game announcement on May 3 as a BBVA Compass brand ambassador and Alabama sport legend.
Look for fans to be excited.
"Expect a lot of excitement for the game of basketball (from Birmingham's residents)," he said. "Even though everyone thinks Alabama is a football state due to the Crimson Tide, Alabama does have a tradition of great basketball players that come out of the state. So look for fans to be excited because (professional) basketball doesn't come to the state of Alabama too often."
Entry fees for Hoop-A-Palooza started at $80 for the Youth division (sixth grade and under), $100 for the Friends & Family division (basketball lovers and weekend warriors), $100 for the Elite division (advanced players ready for fierce competition), and $250 for the Corporate division (players representing Birmingham businesses). Hoop-A-Palooza qualifying events will be free to attend and open to the public.
As an added perk, the final round will feature the two remaining teams of each division, who will square off on October 2 at Legacy Arena at The BJCC during the BBVA Compass Iron City Showdown.
For more information on the Iron City Showdown, click here. For more on Hoop-A-Palooza, click here. Also, check out our list of 75 things to know about leading up to the game, including info on the game, the teams and the amazing host city.