Award
Updated: 11 Mar 2019
BBVA Compass makes list of Best Second Chance Checking Accounts in the U.S. by GOBankingRates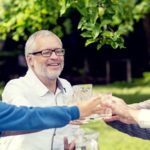 GoBankingRates named the BBVA Compass Easy Checking product as one of the top in the nation due to its complimentary Visa debit card that's set up with BBVA Wallet, among other reasons. The website had previously named BBVA Compass as one of the 10 Best National Banks in February.
Get yourself on a healthier financial track...
"Second-chance checking accounts could be the ticket to rebuilding your account history with a reputable bank or financial institution," according to the article. "Get yourself on a healthier financial track with a BBVA Compass Easy Checking account."
The article also highlights the product's functions such as unlimited check-writing privileges, free withdrawal from BBVA Compass ATM locations and transaction alerts from BBVA Wallet. BBVA Compass Easy Checking account customers can also request to upgrade to Free Checking after a year of positive activity on the second chance product, if the account is active and has a positive balance at the time of request.
"Some of our customers have either no credit history or have low credit scores," said BBVA Compass Head of Retail Banking Çağrı Süzer. "We created a second chance checking account to help them begin their financial journey in a simple and convenient way. This product is one of the various ways BBVA Compass is creating opportunities for the communities it calls home. We're honored to be included on this very short list of U.S. banks."
In the most recent months, BBVA and its subsidiaries have seen solid recognition from different publications besides GoBankingRates' duo of honors. Just last week, Forbes included BBVA Compass in its inaugural World's Best Banks list, earning a place among 60 ranked U.S. banks out of approximately 6,000 competitors across the country. In addition, BBVA Bancomer and BBVA found places on Forbes' inaugural list, placing first in Mexico and seventh in Spain, respectively.
Also, the BBVA Group was the only Spanish bank ranked in the Fortune 2019 annual 'megabank' list, which distinguishes it as one of the "World's Most Admired" financial institutions. It was the fourth consecutive year the Group is included in this exclusive ranking.