BBVA completes first real-time international money transfer between Europe and Mexico with Ripple
BBVA just completed the first real-life implementation of an international money transfer using Ripple's new Distributed Ledger Technology (DLT). The transaction, running on BBVA infrastructures with real money, successfully completed transfers between Spain and Mexico in a matter of seconds.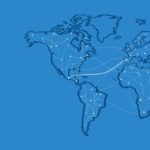 Currently, transfers between countries take up to four days to clear. The use of disruptive technologies such as DLT could bring significant progress to improving the customer experience in transactions involving Latin America corridors.
"This pioneer initiative is a clear demonstration of how payment processes can be vastly improved through the implementation of emerging technologies. These improvements will benefit our clients' transactionality," said Alicia Pertusa, head of Digital Transformation in Investment Banking at BBVA.
However, significantly shorter clearing times - from days to mere seconds - are just one of the potential benefits of this project. Clients will also have access to much clearer information about the costs associated with the process and will be able to view their payments' status at all times. All this is possible thanks to the cryptographic properties of Ripple's blockchain network, which creates permanent records of operations and improves their traceability. Also, by using integrated messaging and settlement, the parties involved in the transaction have access to all the payment-related information.
The application, developed with support from Ripple's solution, is a clear indicator of how BBVA's international payments service could evolve in the future.
"We are very excited that BBVA, one of the most tech-forward banks in the world, has joined the Ripple network to transform their cross-border payments," said Marcus Treacher, Global Head of Strategic Accounts at Ripple. "While others are content to merely experiment with blockchain, BBVA is working with us to move real money and in doing so, will establish the future new level of service for their customers."
BBVA is currently developing several pilots with blockchain to understand and explore the possibilities of the technology, which could potentially play a key role in transforming the financial sector. The recently announced R3 pilot on blockchain in syndicated loans is just one example of BBVA's activity in this field.
BBVA is a member of the R3 consortium and recently joined the Ethereum Enterprise Alliance and Hyperledger. All these alliances seek to develop common standards and build efficient and secure platforms that allow companies to capitalize on the advantages of DLT in the corporate world.