BBVA presented today its financial statements for the April-June 2017 period. BBVA CEO Carlos Torres Vila said that "the second quarter results confirm the positive trends recorded earlier this year, both in terms of financial results and of transformation and value creation for shareholders."
How did the bank do during these three months? And what about during the first half of the year? These are the keys to understanding the results: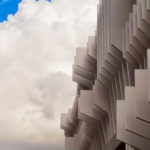 More revenues. BBVA boosted its recurring revenues (net interest income plus fees and commissions). Q2 net interest income reached a seven-quarter high (€4.49 billion) and, together with fees and commissions grew 5.1% y-o-y. This has been one of the factors, together with the moderation in operating expenses and the drop in impairment losses on financial assets, that have helped BBVA post a net attributable profit of €2.31 billion during the first half of the year (up 25.9% from the same period 2016).
Increased efficiency. During the first half of 2017, BBVA has made an extra effort in cost containment. This has allowed expenses to decrease from the previous year, while keeping the efficiency ratio below the 50% threshold (49.6%). This ratio is notably better than the average of BBVA's European peers (65.6% at the end of March).
More solvency. BBVA keeps a capital position above regulatory requirements, with a fully-loaded CET1 ratio of 11.10%. During the first six months of the year, the ratio has increased by 20 basis points.
Lower risks. Another factor that should be taken into account is the company's good risk management strategy. The Group's NPL ratio stood at 4.8% at the end of the quarter, compared to 4.9% in December; coverage stood at 71%
More digital customers. At the end of June, BBVA had 19.9 million digital customers (+22% more than in June 2016). Of these, 14.5 million were mobile customers, a 42% y-o-y increase. Also, BBVA's mobile banking app in Spain is the best in the world, according to Forrester Research
More digital sales. One of BBVA's goals is to increase sales through digital channels across all regions, a goal that is certainly delivering. In the group as a whole, transactions through digital channels increased from 16.8% in average in 2016 to 22.2% between January and June. In Spain, the percentage of transactions conducted through digital channels was 24.7%, compared to an average of 17.1% in 2016. In Turkey, the market where digitization is having the biggest impact, this percentage stood at 31%, up from 25.2% in 2016.