The software company Salesforce is celebrating its annual meeting Dreamforce, aimed at showcasing excellence when it comes to customer engagement and experiential design.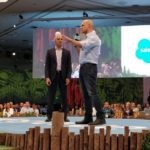 It was also a chance to show off some of the banking applications BBVA has developed for its consumers, including the award winning BBVA app, BBVA Baby Planner and BBVA Valora.
This year the central theme of the show, which attracts tens of thousands of attendees and businesses, was companies that are setting trailblazing standards in their sector.
BBVA was recognised in two areas, firstly for the focus it puts on understanding its customers lives, and designing products and services that are intended to meet these and bring the age of opportunity to everyone.
Secondly, it was highlighted as using technology as a tool for giving customers and clients a better banking experience and work harder to engage people during their interactions with the bank.
The BBVA showcase at the annual Salesforce 'Dreamforce' event in San Francisco, kicked off with a video featuring BBVA CEO Carlos Torres Vila, BBVA Spain Cristina de Parias, and Global Head of Enterprise Solutions, Mario Pardo.
Explaining the drivers for BBVA's business, Cristina de Parias, stated how BBVA keeps as its central ethos three core values. Firstly, that every decision the bank makes is focused on the customer, secondly the ambition it has to bring the age of opportunity to everyone, and thirdly, that BBVA colleagues always work as a team.
She said: "We think big and we put the customer at the centre of all we do so we can improve their lives."
BBVA CEO Carlos Torres Vila said that while technology as a whole within the business is undergoing a massive change - replacing the technology stack and moving processes to the cloud - so too was the world in which the bank operates and BBVA's technological transformation is designed to not just keep pace, but lead it.
Commenting on the power of software tools to understand customer needs, he added that they can help: "To drive actionable insights that enable our customers to make better decisions for their life, for their business, without needing to come to a branch."
"We enable customers to reach their life goals and live the life they want to live."
Meanwhile live at the event itself, in front of an audience of around 6,000, BBVA's Group Head of Client Solutions Derek White took to the stage to discuss the current state of the financial services sector, and the drivers for growth and the future that BBVA is seeing.
He was first asked about the digital transformation approach BBVA had undertaken, and how important data was to the business.
White said it started with the push by Chairman Francisco González more than a decade ago to transform the bank into a digital business. This included everything from untangling the digital spaghetti through to bringing in senior management like the Group Head of Data David Puente last year.
He added that while internal changes were critical, so too was the changing external environment, including regulatory impact like the introduction of PSD2- which free data movement - and the move from closed systems to open - which enables new players to access data. A great example of this, he explained, was the data-powered BBVA Valora app, which lets customers better understand a house they are thinking of buying before they agree contracts.
As well as giving them insight into what a good offer would look like, it can also tell people about the local neighborhood, the likely cost to renovate, what fair insurance costs would look like and even how much it is like to sell for in the future.
This, he added, was partly down to the design, technology and global approach to building apps BBVA is now taking, but also largely to do with this move from closed to open, where third party data can be intertwined with in-house services, to give customers more insight so they can make more informed decisions. This, he added, was an area where BBVA is making great progress and expects to see more in the future.
Smart Interactions
He was then then asked him how BBVA's customers are engaging with the bank in new ways, and what does the bank's customers expect from their banking experience today?
White said that firstly, they expect to bank when, where and how they want - and for this do-it-yourself services and platform availability - making sure all your products and services are available on all devices - are absolutely key.
But, he said that wasn't enough because: "Secondly, they rightly expect a stellar experience - as they get from non banks. And that experience should be ubiquitous and homogenous. Amazon and Facebook look the same wherever you are."
He added: "Thirdly, they expect personalization - insights, advice and offers that are relevant to them and their situation and needs. This is why for us the future is about building smart interactions. And they also expect security and for their data and assets to be protected. This is about building, and maintaining trust."
However for White it was the last element that was so critical: evolution.
He explained how now and in the near future, banks must compete with non-banks for customers time - and to help them reduce the stress money decisions can bring by giving people real insight and value from their data sets.
He said: "The digital brands that survive now, that thrive now, and that will do in the future are those that constantly evolve, pivot, stay relevant, and really understand their customers."
That, he ended, was the core focus of BBVA - to be a better partner for their customers, to be more involved in their lives, and ultimately to serve them in ways banks have never done before.