More than 126,000 BBVA employees spent the day re-familiarizing themselves with, assimilating, and living the corporate values, which represent a fulcrum to the bank's cultural transformation. Over the course of the day, bank employees participated in workshops and activities that reinforced the central pillars underpinning the bank's mission, "to bring the age of opportunity to everyone." This year's event also included participation from the network of sales teams, who developed special activities to enhance an understanding of how they can help customers on a day-to-day basis.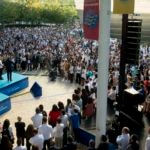 The second Values Day gathered 126,000 BBVA employees from 19 regions across the bank's operating footprint, all with the common objective of practicing the values that serve as the foundations of the bank's activity: "The customer comes first," "we think big," and "we are one team." The Group's offices in Asia were the first to participate in the day's events, which came to an end when the activities taking place in the American affiliates finished up.
During the day, BBVA Group executive chairman Carlos Torres Vila encouraged employees to live by the bank's values and behaviors every day of the year, no matter what their job title may be because "only then will we earn the trust of our customers and colleagues."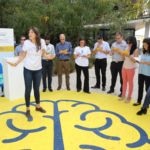 BBVA Values Day 2019 - BBVA
Meanwhile, BBVA's CEO Onur Genç encouraged everyone to participate and embrace the day's events: "If each one of us, without exception, understands that there is a customer at the end of everything we do; if we acknowledge that innovating in the way we work at a small scale will build up into a large wave of thinking big; and if we treat each teammate as a member of our family, we will succeed."
Workshops and activities to reinforce our values
Organized activities used co-creation challenges to encourage new ideas and create novel action plans. Through these workshops, teams were able to identify solutions to daily scenarios, putting the BBVA values into practice in order to make better decisions with a greater impact on customers, society, and employees.
Furthermore, staff at "BBVA City" in Madrid were able attend two presentations addressing the bank's values. First, Roger D. Launius, former chief historian at NASA, spoke about how important thinking big is for reaching goals. He also emphasized the importance of cooperation between multi-disciplinary teams. In addition, Yamile Salazar, an entrepreneur supported by the BBVA Microfinance Foundation in Colombia explained how the foundation empowered her to get ahead and set up her own business, which currently employees more than 90 women in her community.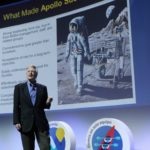 Roger D. Launius during BBVA Values Day 2019 - BBVA
In addition to employees from across the central service functions, this year's Values Day included participation from the network of sales teams, whose employees dedicated their time to think about and interact with customers in order to determine how they can instill the bank's values in their day-to-day work. Also, months prior to the celebration of Values Day, more than 75,000 employees connected to the app developed for the occasion.