BBVA has joined the manifiesto 'Green Recovery. Reboot and reboost our economies for a sustainable future', promoted by the Chair of the European Parliament Committee on the Environment, Pascal Canfin. This alliance defends a sustainable recovery from the coronavirus crisis, and is comprised of politicians, businesses, non-governmental organizations (NGOs) and unions, among others. "In order to tackle the challenge of a quick recovery, we should start with a more sustainable development model," said BBVA Group executive chairman Carlos Torres Vila.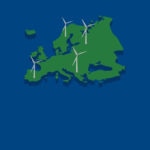 "The challenges related to climate change continue to be as relevant today. If anything, the pandemic has made the sustainability agenda even more important," BBVA's Group executive chairman stressed, who signed this call to action for Europe.
In the declaration, the signatories commit to "working together, sharing knowledge, exchanging expertise and creating synergies to deliver the investment decisions" that are needed. Investments that act as "accelerators of the transition towards climate neutrality andhealthy ecosystems," the letter maintains.
"Covid-19 will not make climate change and nature degradation go away. We will not win the fight against covid-19 without a solid economic response," the declaration continues, "Let's not oppose those two battles, but let's fight and win them at the same time."
Carlos Torres Vila: "The pandemic has made the sustainability agenda even more important"
The alliance currently has 270 members, which include MEPs from 17 EU countries, European ministers, NGOs, corporate associations and unions. In addition, 50 chairmen or CEOs of large European multinational companies have signed the declaration. In Spain, the Grupo Español de Crecimiento Verde (Spanish Group for Green Growth), of which BBVA is a member, has also decided to join the alliance.
The signatories support the European Commission's Green Deal, launched last December. This Green Deal represents a European road map that affects sectors ranging from transportation and energy production to agriculture with the goal of tackling the climate crisis. The EU has committed to eliminating its greenhouse gas emissions by 2050.
BBVA has committed to being neutral in CO2 emissions by 2020. It also set the goal of reducing its CO2 emissions by 68 percent from 2015 levels, and for 70 percent of the energy the bank uses around the world to come from renewable sources by 2025. Goals that are part of its Pledge 2025, launched by the bank to help attain the United Nations Sustainable Development Goals (SDGs) and the Paris Agreement on climate change. Reducing the impact of its activity on the environment is one of the goals in BBVA's strategy to fight climate change and promote sustainable development.
As part of this Pledge 2025, BBVA will also mobilize €100 billion in sustainable financing between 2018 and 2025, and it has already reached nearly one third of this target, according to the figures available at the end of 2019.