BBVA leads the implementation of Agile methodologies in Spanish companies
It´s been found that 62.5 percent of organizations with more than 50,000 employees are already working in an Agile way, according to the Agile Maturity Index report. In collaboration with Workday, Opinno consultancy presented its conclusions of an analysis of 600 companies (260 Spanish) from various countries. BBVA, a pioneer in incorporating agile work forms in Spain, is positioned as a benchmark for success in its implementation.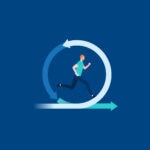 The effects of globalization, the technological revolution, social changes, and a professional market led by new generations of workers who are already seeking future concerns, have forced companies to make profound changes in their own internal organization. "All of this has accelerated with the outbreak of the pandemic and more open and flexible management models have become essential," explained Imma Catalá, the Head of Strategy and Solution Development in BBVA's Talent and Culture department, at the study´s presentation.
"Models that allow employees to have a close relationship with their managers, participate, get involved in the company, develop their own ideas, and be measured for it. And if there's an organization model that exemplifies all this, it´s Agile´s, the one we have implemented at BBVA," she adds. A transformation that the bank began in 2014 and that has extended, achieving its implementation in the way that more than 33,000 employees work today.
With the onset of the pandemic and work environment adaptations, company competitiveness now faces a series of new challenges. The report identified some of those challenges as: the lack of speed when it comes to generating and improving business models, the distance between strategy and teams, the mismatch between business and technology, aging, fragile and expensive technical architectures, unmotivated talent, and obsolete capabilities.
Agility in a world in constant change
"The Agile model was born in response to these challenges," says Pedro Moneo, founder and CEO of Opinno, "and its adoption allows companies to be faster and more agile to adapt to the needs and priorities of each moment, reducing the time to market of products and services, increasing the value delivered to customers, and reducing the risk of projects."
Adolfo Pellicer, Workday country manager for Spain and Portugal, explained during the presentation that "agility is one of the key values that will define the future of companies." An agility that is achieved "by having a holistic vision and providing employees with the right technology, skills, mindset, and tools to plan and act quickly. In times of change, decisions must be quick, effective and affect all levels of the organization."
In fact, the study takes agility´s pulse in companies by analyzing issues such as the relationship between the organization´s age and its agility level, the sectors that lead in terms of organizational agility, and how corporate culture is perceived from the perspective of the transformation.
Spanish companies still have a long way to go when it comes to corporate agility. The index indicates that, globally, 62.5 percent of organizations with more than 50,000 employees are already working with agile methodologies. Leading this evolution are banking, insurance, technology, and telecommunications companies. The report indicates the financial industry´s advantageous position, resulting from the rapid and more effective adaptation to market contingencies. An advantage that has been achieved by adjusting core elements of business management, as well as the cycles and models of budget allocation, prioritization, and decision-making.
The role of technology and corporate culture in adaptation
Corporate culture is one of the main obstacles companies face when implementing agility, according to 40 percent of the organizations surveyed in the study. This means that the older the organization, the more representative the challenges are. A quarter percent of organizations also recognize that they must change their organizational design to adapt to the incessant changes in the market. They mentioned how scalability becomes essential in their strategy, as does the disappearance of hierarchy and digitization.
Technology is a key element to ensure the implementation of this model. In this respect, companies are experiencing the need to bet on models that allow them to operate with greater agility, scalability and with easy access from anywhere. Technology that facilitates better data management,  planning models more efficiently, and that's capable of being modified quickly to adapt to a changing reality.
In recent months Agility in organizations has gone from being a competitive advantage for leading companies to a necessity in order to advance and improve in this changing economic and business context. Now more than ever, the ability to act in short turnaround times has become a key to success.