The American magazine Fortune, which compiles the World's Most Admired Companies ranking, once again places BBVA as the first and only Spanish bank on its list.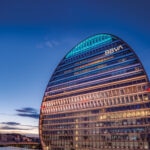 BBVA is once again one of the most admired companies in the world according to the annual ranking of Fortune magazine and the international consulting firm Korn Ferry. The financial institution is part of the Megabanks category, which includes 16 international institutions such as JP Morgan, Goldman Sachs and Morgan Stanley. According to the surveys carried out, BBVA obtained its best scores in terms of quality of management and wise use of corporate assets.
"Being part of the list of Fortune companies is a great reward for all the people who work at BBVA," says Carlos Casas, Global Head of Talent and Culture at BBVA. For the executive, it is an "important recognition of the dedication and effort of our professionals, who are BBVA's best asset".
Ignacio Bueno, partner at Korn Ferry, explains: "We are proud, for yet another year, to see BBVA recognized as one of the most admired companies in the world. This year I would also like to highlight that for 35% of the most admired companies, the sustainability strategy is so important that they consider it to be creating a spectacular increase in the long-term value of the organization, which coincides with BBVA's firm commitment and strategy in this area".
The publication has been compiling the list since 1997 with corporate reputation surveys of the 1,000 largest U.S. companies in terms of revenue, along with non-U.S. companies from Fortune's Global 500 database and companies with the highest earnings in each sector, a total of 192 from 27 countries in 52 sectors.
The surveys, answered by senior executives, directors and analysts, are based on nine criteria: ability to attract and retain talented people, quality of management, social responsibility to the community and the environment, innovativeness, quality of products or services, wise use of corporate assets, financial soundness, long-term investment value and effectiveness in doing business globally.