Following the introduction of new ways of working, the bank is rolling out a range of corporate wellness initiatives aimed at caring for employees' physical and emotional health.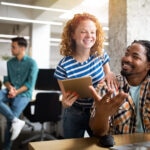 "Over the past few months, we've reached out to our employees to listen to their concerns and evolve our value proposition. Using this information, we've designed several lines of work geared toward talent and career development, as well as topics specifically related to well-being," explains Araceli Morato, Head of Occupational Health at BBVA. Over the year, the bank has implemented its final flexible work pattern, with major work-life balance schemes, and has launched talent-related initiatives, such as Talent Week. "Having outlined the way we want to work, we now want to focus on measures that help make our work more productive and our meetings more efficient. It's also a matter of just respecting our colleagues' time," she explains.
BBVA has launched an internal corporate wellness campaign aimed at the entire workforce, focusing on physical and emotional health alike. Starting in November, all Group employees can attend courses, workshops and talks on sleep hygiene, managing emotions and anxiety, preventing brain aging, physical exercise and nutrition, in partnership with experts from the Hospital Clínic de Barcelona and Sanitas, among other institutions.
For several years, the bank has sponsored in-house campaigns aimed at preventing diseases such as cancer, heart disease and stroke. It has now introduced pilot programs for genetic analysis of hereditary heart disease in order to provide early intervention. 24-hour psychological support is also available. "At BBVA we've always been concerned about our employees' health and well-being. After the pandemic, however, we realized we needed to focus more on certain key issues, such as emotional well-being. We believe it's vital not to lose sight of the individual circumstances in which each person is living each situation, and to offer a wide range of initiatives within the framework of emotional health," she explained.
A pilot project that has already been successfully tested among the employees of Ciudad BBVA, Madrid, stands out among the activities implemented: a knitting workshop in which a group of employees had the opportunity to learn how to knit and create their own garments. This activity, provided by the company We Are Knitters, is becoming a trend in large companies due to its benefits in learning processes, mental engagement and healthy development. "Following the positive feedback we have expanded these workshops to reach more employees. We'd like to create an internal community to connect future knitters, as we did with the mindfulness community, which already involves more than 2,300 employees," said Morato.
This program expands BBVA's value proposition to its workforce. It will expand to all the countries where the bank operates and will grow with the launch of new initiatives over the next year. "We strive to provide our employees with the best possible working environment  because, for us, the people who make BBVA so distinctive are the bank's main asset," she concluded.