Mindfulness is not a passing trend. Its impact and potential go beyond a mere meditation and stress management technique, as it also encompasses a key managerial skill. Mindfulness is something that is being harnessed for both personal and professional reasons on an individual level, but also from the perspective of organizations. This is the case at BBVA, where mindfulness is producing positive results in employee productivity, well-being and leadership, while also supporting the bank's corporate culture.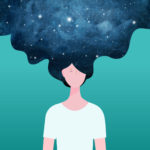 The practice of mindfulness began at BBVA thanks to an employee initiative in June 2015. "Coinciding with the change of the bank's main headquarters in Madrid, a group of colleagues who were familiar with this meditation and others who were curious decided to spend our lunch break meditating together one day a week," explains Alicia Martín, who has worked for the bank for over 34 years. Alicia's role as an intrapraneur in this field has been one of the keys to the initiative' s internal success. Certified in Jonh Kabat Zinn's mindfulness based stress reduction (MBSR), she started designing a beginners level training that was very well received, selflessly combining her work and dedication to her job with this initiative.
Since 2017, the Group began a profound process of changing the way work is understood, with the addition of agile methodologies and the definition of a purpose and corporate values. "In this paradigm, mindfulness served as a driver to develop the skills necessary to tackle the change," explains Elena Sierra, a member of BBVA's corporate culture community of practice. The agile work system shares many foundations and connections with mindfulness. The significant synergies between the two accelerated and mutually supported the introduction of both philosophies and visions.
"Something that started out informally was taking shape, and as demand grew, the Talent and Culture area found out about it and expressed interest in the initiative. They decided to sponsor it and provide resources, giving it space to grow," explains Alicia. The bank's initial impetus was geared toward helping people to feel better about themselves and be happier, knowing that it would also be good for the bank.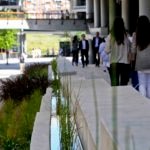 Inside BBVA headquarters in Madrid - BBVA
"We think that the initiative works at BBVA because employees created it for employees with the selfless interest of colleagues helping each other," explains Elena. She attributes part of this success to the fact that it is an open process, with no obligation. Employees are invited to participate and they each serve themselves the resources they need. "We offer different formats from small, formative session to informative interventions that last several hours," she notes.
The mindfulness philosophy is not based on individual activities, but on consistent and continuous work: "No transformation tools produce results in a single class, it has be accompanied by practice. That's why we promote practice groups."
This initiative is currently part of the company as training and to promote a change in the corporate culture. It has been expanded to all countries where the Group has a presence. A community that now includes over 2,200 employees who have been able to participate in any of the available training: the online format (an eight week course with one hour online a week and daily individual practice) and in-person (a course that has three 10 week editions every year).
BBVA's mindfulness proposal participates in World Happiness Fest
World Happiness Fest, the largest happiness forum in the world, was held on July 29th. A place to meet, reflect and take action with different activities designed to promote and facilitate debate and dialog on happiness. Experts in happiness and wellness, opinion leaders, agents of change and people from around the world debated about health, education, work, politics, the economy and human development.
Participating speakers included Elena Sierra and Alicia Martín, who explained the model BBVA is using to incorporate the mindfulness philosophy in different aspects of the organization. In webinar format, they both had the opportunity to explain the highly positive impact it is having on a multitude of aspects for individuals and the organization.