BBVA develops the infrastructure to allow El Corte Inglés to process Alipay mobile payments by Chinese tourists. Alipay is one of the most popular payment platforms in China.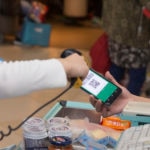 In 2018, Spain expects to welcome over half a million tourists from China, a country that is quickly becoming an important source of foreign visitors. With expected expenditure of almost €1 billion, they represent a great opportunity for Spanish retailers to boost their sales.
BBVA became Alipay's partner bank in Spain in June 2017 and has now developed the technological platform that will allow El Corte Inglés, Europe's largest department store chain, to accept Alipay payments from Chinese visitors.
"We're delighted to work with El Corte Inglés and help them become the first major Spanish retailer offering Alipay's services in the whole of Spain. It is a great opportunity to cater to this segment of international tourists," said Carlos Laita, from New Digital Businesses of BBVA.
The agreement represents an opportunity to offer the best services to this group of visitors, with a purchasing experience on par with the one enjoyed in China, where Alipay is one of the most popular methods of payment.
A European network
Alipay is the world's largest payment platform, operated by Ant Financial Services Group. Since its creation, it has pursued a proactive strategy to sign agreements with top EU institutions to facilitate the payments of its customers in China. In June 2017, BBVA became the first Spanish bank to sign such an agreement with Alipay to allow Chinese tourists make payments in Spain.
Since then, BBVA has embedded Alipay in its SmartPay service, which turns smartphones into a payment method. Smartpay is available for all types of stores and works through a smartphone app. Businesses that already have the service only need to update the Smartpay app to accept payments with Alipay.
BBVA will continue to work with Spain's leading retail chains to help them accept Alipay payments. The bank also develops solutions to allow retailers to integrate Alipay into their own sales and checkout platforms.
Alipay's system relies on QR codes, similar to the ones used by airlines for boarding passes. The retailer uses the SmartPay camera to scan the QR Code to make payments. This is the most widely used payment method in China, where QR codes are also used as marketing and promotional tools.