Due to a series of particularities, the Chinese market has risen as the role model in mobile payments adoption. Western economies have a lot to learn about a market that is valued at over $2.3 trillion.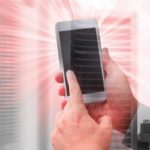 The U.S. might be setting the pace of the digital revolution, but in the field of mobile payments, from an economic, technological and social point of view, China is well ahead.
Figures speak loud and clear. China is the largest global mobile payments market. Turnover is expected to break the $6.3 trillion mark by 2020, according to iResearch forecasts, which marks a healthy 33% five-year compound annual growth rate.
In a comprehensive report on the topic, consulting firm BI Intelligence estimates that the United States will generate $154 billion in mobile payments volume in 2016, about 6.5% of China's mobile payments volume.
Even if growth forecasts are finally met, the U.S. mobile payments market to catch up with China's until 2025, which means that it is nine years behind. Even taking into account the differences in population – 1.4 billion in China vs. 330 million in the U.S. – the average amount paid using mobile means by a Chinese citizen stood at $1,700, vs. 475 in the United States.
What are the reasons for this significant difference? It can be summed up in three factors:
The more relevance in China of smartphones compared to other devices
The lack of traditional payment infrastructures and habits
The enormous strength and penetration of online retail giant Alibaba and its Alipay payments platform.
The road from cash to mobile payments
One century ago, U.S. citizens used only coins and bills to pay. Then came credit cards, and then online payment platforms. Now, users also have the chance to pay using their mobile devices but they are already used to the other methods.
In China, the situation is quite different. The road from cash to mobile payments has been a much straighter one. 96% of Chinese people own a smartphone, while only 61% of them have a computer, according to BI Intelligence data. In the United States, this difference is much lower, because proportionally, there are less smartphones and more computers: 85% vs. 75%.
But, besides the huge popularity of smartphones, in China, other methods of payment are much less developed than in Western countries. 78% of Chinese nationals do not hold a credit card, whereas in the United States, in contrast, 72% of the population do own one. The lack of bank card penetration is driving the adoption of mobile payments among consumers and merchants.
Large companies 'working' for mobile payments
Regardless of much Chairman Jack Ma may disagree with the analogy, Alibaba is widely regarded as the Chinese Amazon. Its figures are staggering: In the last quarter of the previous year its turnover stood at about €4.8 billion (up 32%) and profits skyrocketed 111%, to €1.74 billion.
Its business model is quite simple: it groups products and services from an endless list of vendors, offering an easier way to buy them through a single website, simplifying both search and payment processes for customers.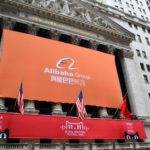 Alibaba Group Holding covers the front facade of the New York Stock Exchange
Of the myriad businesses and subsidiaries that have sprouted under Alibaba's umbrella, its payments platform Alipay is one of the ones that stand out the most. This PayPal competitor, who just bought MoneyGram for $880 million, manages 75% of Alibaba's purchases. BI Intelligence's report estimates that between April 2015 and March 2016, Alipay processed about $215 billion in mobile payments.
BI Intelligence experts are convinced that the strength of mobile payments in China owes a lot to Alibaba, with its commercial muscle, and Alipay, with its seamless payments technology: Simply, they are an evident demonstration that everything works seamlessly, in a market, let's not forget, where credit cards and computers are not as present as in the west. Also, Alibaba and Alipay are not the only ones that 'work' to increase the popularity of mobile payments in China.
Tenpay is another digital payments platform that needs to be factored into the equation. Its greater strength is that it is linked to Chinese social network WeChat, which has about 800 million users, twice as many as Twitter and 60% more than Instagram. Its market share in mobile payments is 38%, vs. Alipay's 52%. And it is growing.
Payment fees are key in Tenpay's and Alipay's business models, but their future development will, to a large extent, depend on whether it continues developing customized financial products, such as loans, for its sizeable user base. And, just as it is happening more frequently in more companies, big data is the golden path to future opportunities: Tenpay and Alipay have amassed huge volumes of data, but they need to learn how to monetize them.
Will the U.S. be able to, little by little, close the gap that separates it from China in mobile payments? According to the report, market fragmentation and consumer habits are currently playing against this technology. But there is still a long way to go, and China's lead is opening up several trails.  For example, Alipay's app allows users to send messages, P2P payments and redeem discount coupons, just in the same way as Tenpay, through WeChat, offers messaging functionalities. There is nothing similar, at least at this level, in the United States.