BBVA promotes integrating young people with Down Syndrome into the workforce
BBVA is taking a step further in integrating people with Down syndrome through the internship agreements of its Territorial Divisions with several industry associations. These initiatives allow those selected to be able to gain the experience they need to find a job and improve their skills.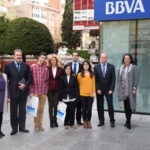 The 'Empleo con Apoyo' (Employment with Support) initiative was created in Galicia in 2012. This program provides practical training at BBVA offices for young people with Down syndrome, promoted by the BBVA Volunteer Office. Six youths who are members of Down Ourense inaugurated this program that has been established nationwide over the years. "The program's benefits have a double meaning," declared Delmiro Prieto, President of the Down Galicia Federation. "For young people it represents an opportunity to undertake a professional activity and join the world of work." The success of this first experience resulted in new editions of the program being held in Galicia, Castile and Leon and Asturias, and it inspired other Territorial Divisions to join such initiatives. This year, The Northwest Territorial Division has welcomed 14 young people in Galicia and 30 in Castile and Leon. 
The result is obvious to the eye. The officemates are full of praise for the students and emphasize their working capacity and ability to cope. The students say it's a very positive experience and agree on how much they enjoy and learn during their internships. The benefit in both cases is mutual: "It's a very rewarding project, both for participants and employees, and all companies should work with these young people," highlighted Alberto Charro, director of the East Territory of BBVA that has signed an agreement with Asindown. Through this alliance, three young people with Down syndrome will undertake their training placements under the "Empleo con Apoyo" program promoted by the BBVA Volunteer Office. 
Naiara, Nekane, Laura and Nerea form part of the second promotion of the "Formación Laboral" (Employment Training) program. All of them are undertaking, or have undertaken, a three-month period of active training in two offices in Bilbao and Portugalete, through the signing of an agreement between the North Territorial Division and the Down Syndrome Foundation. Their tasks are essential for the office to function properly as they are in charge of the digital archive, distributing the pouch, helping customers, completing satisfaction surveys and replacing printers, among other duties. 
The methodology of the program in which they are participating includes prior training and the assistance of a job coach who is a professional from the Foundation. This figure is gradually disappearing as they begin to become familiar with their tasks and acquire the technical and social skills they need. The ultimate goal is for the youths to be able to fend for themselves with the support of their officemates. 
In the Center Territorial Division they are familiar with these types of scholarship programs as they have been undertaking them for three years. This year they have four students in two offices in the city of Madrid, who will undertake their practical training for two months to get the final certificate from the Universidad Pontificia belonging to the Telefónica-Repsol Foundation Family and Disability Chair. All of them have received specific training on Safety and Occupational Risks Prevention and have demonstrated their enthusiasm for working in BBVA.