BBVA is unifying its brand across its footprint. Customers will see this change taking place progressively in the Group's mobile apps, transactional websites, its almost 8,000 branches across the world and its corporate headquarters.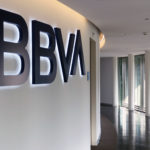 In Switzerland, BBVA's vocation has always been characterized by the global nature of our private banking services. We work with clients in more than fifteen countries and try to offer a differential, modern and personalized experience through our team of professionals and the digital solutions we develop.
In a world where digitalization and globalization are already a reality, the customer experience is the most important key for the success of any company.  BBVA has been a pioneer in its commitment to digitalization and in seeking solutions that help customers make the best financial decisions in their lives and in their businesses.
Corporate Presentation 2Q23
For this reason, we have unified the name and updated the logo to better transmit our reality, increasingly global and digital.  This new identity, so contemporary, reinforces the commitment of BBVA with its almost 75 million customers to make the opportunities of this new era available to all. With this change, we intend to offer a unique value proposition and a homogeneous user experience with global products and services as a result of a single development process, which allows a global collaboration, prioritization of resources, better 'time to market' and adaptations in each market.