BBVA strengthens its Customer Solutions area to accelerate bank's transformation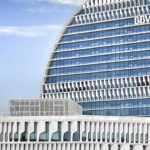 BBVA today announced a reorganization of its Customer Solutions area led by its Global Head Derek White. The move aims to foster the development of innovative solutions for the Group's clients and customers, the promotion of disruptive initiatives, while accelerating the bank's transformation.
Gonzalo Rodriguez will now lead a new global unit responsible for the development of the best solutions for retail customers, reporting directly to Derek White. Sofía Rodríguez-Sahagún, currently BBVA Spain Marketing director, will replace Rodríguez as Head of Digital Transformation for BBVA Spain while maintaining her current responsibilities.
Ian Ormerod will lead the New Digital Businesses (NDB) unit, replacing Teppo Paavola, who -after a successful time at BBVA- is leaving the company to pursue new professional projects. Over the past three years, BBVA's NDB unit has focused on developing disruptive initiatives, collaborating with the fintech startup ecosystem and materializing digital acquisitions.
Ian Ormerod
Ian Ormerod has had an extensive career in the financial sector. He previously worked for Abbey National Bank, AXA, and Barclays, where he held several responsibilities in the areas of design and digital banking. During the past few months, Ian Ormerod has been working with BBVA as a consultant.
Gonzalo Rodríguez
Since 2016, he has been leading BBVA Spain's digital transformation, as head of user experience, focusing on distribution models, processes and digital channels. Before joining BBVA,  Gonzalo Rodríguez was a a partner with McKinsey at Madrid headquarters.
Sofía Rodríguez-Sahagún
She is currently BBVA Spain's Marketing Director.  Sofía Rodríguez-Sahagún was a Brand and Clients director with Vodafone Spain and  Head of Marketing and Communications with ING Direct. She previously worked as Strategy and Marketing director for Ikea in Spain and Portugal.