BBVA USA promotes long-tenured Dillan Knudson to the position of Houston CEO
BBVA USA has promoted Dillan Knudson to the position of Houston CEO, where he will oversee Commercial banking and Global Wealth operations for the bank's biggest U.S. market.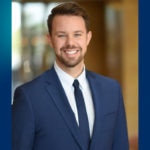 Previously the BBVA USA Austin CEO, Knudson will take over the responsibilities of leading the fourth largest bank in the Houston area. He originally joined BBVA as a credit products officer in the Houston office in 2011. Since that time, he has held various production and leadership positions for the bank in Phoenix, Ariz., Ontario, Calif., and Austin, Texas.
"I couldn't be more proud of the job Dillan has done for the bank and, most importantly, our clients over the years," said BBVA USA Texas Region Executive Jeff Dudderar. "His work in taking the bank's Austin operations to the next level speaks for itself. Houston, like Austin, is a flourishing area that presents ample opportunities, not only for the bank's growth, but for our client's financial success. I have full confidence that Dillan and his team can achieve and exceed these goals."
Before joining BBVA, Knudson worked in investment banking with an advisory service firm specializing in tax credit programs that attract private investments to incentivize economic growth in distressed communities. In addition, he worked in commercial real estate lending throughout Arizona and Utah.
"This move signifies a full circle transition back to the market where my BBVA career started," said Knudson. "I'm humbled by the opportunity to serve the Houston area and look forward to reuniting with so many friends and colleagues throughout the region."
A native of Fargo, N.D., Knudson earned a bachelor's degree in finance from the University of North Dakota. He also was selected to attend the BBVA Executive Education Program at the University of Texas in 2016.
With Knudson's move from Central Texas, BBVA USA has also appointed Jon Rebello as its new Austin CEO. Rebello previously served as BBVA USA Texas Border and Gulf Coast Region CEO.