BBVA ushers in the debt market with a senior non-preferred debt issue
This Tuesday, BBVA launched an 8-year senior non-preferred debt issue, maturing in January 2031, with a redemption option in the seventh year. The exit rate is MS+190/195bps. This is the Group's first issue in 2023.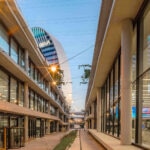 The underwriters are BBVA, Barclays, BNP Paribas, Crédit Agricole y J.P. Morgan. The bond will be listed on Euronext Dublin's Regulated Market and has been issued under Spanish law. This issue is aligned with BBVA's funding plan for 2023.
In 2022, BBVA made a total of six public debt issues: a non-preferred senior debt issue for a total of 1 billion euros; a preferred senior debt issue, in two tranches, for a total volume of 1.75 billion euros, another non-preferred senior debt in two tranches, issued in dollars; a senior preferred debt issue for 1.25 billion euros; and two 'green' issues, one in October for 1.25 billion euros in senior preferred debt and another in November for 425 million Swiss francs in a senior preferred bond.
Last year, the bank also made several private issues of senior preferred debt, for a total amount of 1.07 billion euros.