BBVA places 1 billion euros in its first issue of 2022: a non-preferred senior bond
BBVA is the first Spanish bank to launch on the wholesale markets, with a euro-denominated senior non-preferred bond of 1 billion euros. The issue has received a high level of demand of two billion euros - double the target, with 125 orders.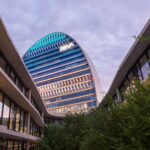 Most of the investors are from France (37 percent) and Germany and Austria (34 percent), followed by the U.K. and Ireland (nine percent), Italy (six percent), Spain and Portugal (five percent), Belgium, the Netherlands and Luxembourg (four percent), Asia (three percent) and Switzerland (two percent). By investor type, fund managers (70 percent), insurance companies (17 percent) and banks (11 percent) participated in the bond issue, among others.
The positive response from investors reduced the initial price by 23 basis points to a mid-swap spread, plus 82 basis points. The term of the bond is 7 years, with a redemption option in the sixth year, and it is BBVA's first issue of this product with this option. The coupon was set at 0.875 percent.
By doing so, the bank debuts with an instrument included in its funding plan, already familiar to the market. This plan foresees that the bank will issue between 2 and 3 billion euros per year in senior issues -both preferred and non-preferred- to meet the MREL requirement. With new issues such as this one, the bank is diversifying debt maturities and preparing to replace the instruments issued that mature this year.
The banks spearheading the operation are BBVA itself, together with IMI-Intesa Sanpaolo, Natixis, NatWest Markets, Nomura and Société Générale.