BBVA participated in the Red Hat Summit, the annual event held by the open-source software company in San Francisco, where the Group was awarded for being a model of digital transformation using cloud technologies. During one of the event sessions, the company's CEO, Jim Whitehurst, talked with José María Ruesta, BBVA's Global Head of Infrastructure, Service and Open Systems.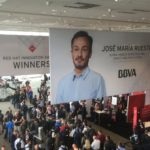 Since 2005, Red Hat has hosted the biggest open-source technology event in the world, the Red Hat Summit, which brings together experts in business and technology with a particular focus on cloud solutions.
Intel, Microsoft, Lenovo, and Google were some of the companies in attendance at this year's event, which according to Red Hat was the most successful to date and coincided with the company's 25th anniversary. The event dedicated a session to showcasing the most prominent customer case studies using Red Hat's open source solutions where they also presented the annual awards, the Red Hat Innovation Awards.
BBVA was recognized for its exemplary transformation strategy and for the use of cloud technologies to build a global platform capable of meeting growing digital demands and improving customer experience. BBVA was the only bank among this year's five winners, which included Argentina's Migration Department (DNM), IAG, Lufthansa Technik, and UPS.
"The key drivers for its digital transformation lie not just in technology, but also in its talent pool. It has more than 12,000 developers working around the world and expects to re-skill 20,000 professionals to work as software developers," Red Hat explained.
José María Ruesta, Global Head of Infrastructure, Service and Open Systems at BBVA attended the event where he spoke with Red Hat's CEO, Jim Whitehurst. "BBVA has moved from handling  hundreds of Terabytes to handling hundreds of Petabytes. In Spain, for example, we already run 36% of our transactions on our distributed platform", Ruesta explained, referring to the cloud platform BBVA built with the help of Red Hat technology, as part of the transformation process unique digital requirements.
"Being an enterprise with many years of history is not a guarantee of success. Adapting quickly to this digital transformation is a must for our organization. The moment is now– tomorrow could be too late," Ruesta stated.
The challenge and the solution
"No small task, the BBVA platform's goals were to provide a single, global cloud platform that is fully automated, self-serve and data-centric, combining real-time and batch data," Red Hat explained in its BBVA customer success story where they describe how the Group confronted the challenge of updating its IT system to better support its digital transformation goals by creating a global platform that supports existing, business-critical workloads, like new credit card contracts, claims, loans, and mortgages.
"We needed to be 100% certain that each new solution or project to be deployed would successfully turn into a new product for our customers." he added. The use of open-sourced, cloud technology using IaaS and PaaS platforms has permitted BBVA to move away from silos and a monolithic architecture to distributed and high performance architectures. "The new platform also gives developers the chance to test and develop as much as they want; so, they can concentrate on what they love: developing."
The cloud approach not only gives BBVA scalability and high performance, but also a new way to understand "innovation in the banking sector", Ruesta said. "For BBVA, cloud computing is much more than technology, it is a transformation enabler, an important element of the process, but in the context of the transformation it goes hand-in-hand with the transformation of our own developers, the way we build and bring solutions to market."