Four years ago, BBVA took on the challenge of turning professional technical profiles into data scientists, launching the first edition of 'From Data Mining to Data Science'. Since then, more than a hundred employees have completed this training program that aims to build up in-house knowledge in new tools and techniques that will allow the bank to deliver on its goal to become a data-based corporation.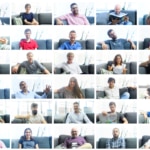 Data is the fuel of innovation.  This saying has almost become the tagline for big data, but the truth is that knowing how to handle data to solve business issues requires acquiring a series of concepts and knowledge that at the moment are very scarce.
"Data science requires a very specific profile, a hybrid of a scientist prepared to find patterns and an IT technician with computer programming skills, capable of working with new data processing and visualization tools," explains Juan Murillo, head of Communities of Practice and Data Science Training at BBVA Data & Analytics. Murillo has led, together with the Campus BBVA team, the design of this groundbreaking program in the corporate arena.
In 2014, BBVA created a center of excellence in analytics, BBVA Data & Analytics. Today, the unit is made up by a team of 44 specialists, "one of the largest concentrations of data scientists in Spain," explains Murillo in statements to Innovadores, a special published by Spanish newspaper El Mundo. The challenge was to disseminate this across the organization at large and this idea is what gave birth to this training initiative.
The company recently closed the fourth edition of the program. A total of 25 professionals from 11 BBVA areas enrolled in this year's edition.  The seven week long course was divided into two parts:  During the first, participants attended a series of theoretical-practical classes where they became familiar with the most relevant algorithmic tools.  During the second part, they worked in teams to solve real-life business problems identified by different business units.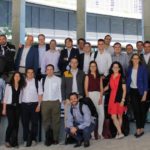 Participants of the 2017 promotion of "From Data Mining to Data Scientist", in BBVA City.
The training concluded with the presentation of the projects before a jury consisting of Alejandro Valladares, from the BBVA Data area;  Elena Alfaro, head of BBVA Data & Open Innovation, Jon Ander Beracoechea, co-CEO of BBVA Data & Analytics, Miguel Ángel Iñesta, Data & Open Innovation Platforms and Federico Castanedo, Vodafone Lead Data Scientist.
Project "Risk Model Interpretability" was the best rated by the jury.  This work tries to explain how different variables affect the algorithm that determines the approval or denial of a mortgage application.
The other works focused on different topics such as the development of new mechanisms to optimize the configuration of stock purchase strategies, systems to determine the potential value of real estate assets, new anti-money laundering solutions, a new analysis of human resources and recruitment processes; a system for monitoring public information gazettes; and new tools for building customer loyalty and analyzing customer churn models.
All these projects, as well as those presented in previous editions, prove the importance of data for meeting the challenges of day-to-day business, improving processes and even creating new products and services.  Murillo believes that the future is to create "mixed work teams that encompass different areas, such as legal or infrastructure."
BBVA will continue developing this innovative training program, the next edition of which will launch in early 2018.