BBVA's 'Aprendemos juntos' (We learn together) breaks records: More than one billion views and a community of four million people
BBVA's educational project 'Aprendemos juntos' (We learn together) was launched on January 22, 2018 in collaboration with Spanish daily El País. Since then, it has met with one success after another. Over two and half years, more than 200 experts have worked on the 'Aprendemos Juntos' initiative, it has accumulated over one billion views, and it has brought together a community of four million people. On May 23rd of this year, 'Aprendemos Juntos' went one step further and premiered on the Spanish TV show 'A mi yo adolescente' (To My Teenage Self), a nine-episode series on TVE's channel 2 that looks at what young people think about issues such as friendship, fear and love.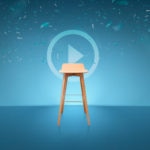 "Education is the best tool to improve people's lives, and our mission is to get the whole of society involved in the challenge to make sure every child finds their passion and fulfills their true potential," said Ana Gómez, head of BBVA's 'Aprendemos Juntos' (We learn together) initiative.
Thanks to the interest shown by society, the project has become one of the most disruptive and successful Spanish educational programs online. By the end of September, 'Aprendemos juntos' had been viewed a total of 1,087,642,290 times. The program aims to start a conversation — getting people to talk about education outside academia, getting people to take an interest, and enabling people to educate themselves through these videos about issues that come up in their day-to-day lives.
The audiovisual content deals with a range of topics - from the need to introduce a more sustainable model in society, the responsible and ethical use of technology in our lives, and the challenges that teenagers face, to how education is required in order to progress and grow both from a professional and personal standpoint.
"'Aprendemos juntos' is about more than just viewing content. Behind every view or click on social media, there is a story that aims to improve educational and personal development," the bank's project manager concluded. "And that's one of the fundamental successes of the project," she added.
An ever-growing community
In one of the most competitive contexts in history, 'Aprendemos juntos' is leading the educational content consumed in Spain, and has become the number one educational community in the country, with more than three and a half million members.
This success has taken 'Aprendemos juntos' to Latin America, where it arrived at the end of 2019. People in Argentina, Colombia, Mexico, Peru and Uruguay can now take advantage of this content.
Thanks to this expansion, the 'Aprendemos juntos' community continues to grow. At the end of September 2020, the Facebook page had just over two million followers, and the Twitter page had more than 68,000 followers. Both platforms have accumulated more than 500 million views. Its presence on YouTube, with more than a million subscribers and close to 184 million views, demonstrates the scale and impact of the project. The most recent social media site that the program joined, in March 2019, was Instagram, and it already has nearly 350,000 followers.
This cross-media success is also reflected in the podcast version of 'Aprendemos juntos'. Since it launched in this format in the summer of 2018, it has been shared more than two million times, which also places it as one of the top education podcasts in platforms like Spotify.
The project's accolades
Since its inception, 'Aprendemos juntos' has received a total of 49 awards. In the past year, among other awards, the team has been recognized with the Gran Premio Eficacia presented by the Spanish Advertisers Association (AEA); the Premio Magisterio 2019, and the award for the best branded content awarded by the Spanish Association of Branded Content (BCMA). Furthermore, since it was launched, 'Aprendemos juntos' has appeared 31 times in the Top 5 of the YouTube Ads Leaderboard, a ranking that recognizes the content that has been viewed the most on the platform each month.
The Business 20 (B-20) chose this project because of its impact on the Sustainable Development Goals (SDGs) and it was presented to world business leaders at the summit held in Japan in 2019 in order to promote education as an opportunity to improve people's lives.
The 'Aprendemos juntos' top 10
Over the years, a total of 283 videos have been published, featuring professionals from various fields within education, sports, literature or science, among others. These professionals, from all over the world, have identified key challenges for the 21st Century and shared unforgettable experiences and moments with the public.
The ten videos with the most views since 2018 are:
1) Irene Villa: "Can forgiveness heal pain?", with more than 34 million views.
2) José Antonio Fernández Bravo: "The story about a teacher and a rectangle with eyes", with 34 million views.
3) Eva Millet: "Overprotecting children doesn't protect them", with nearly 30 million views.
4) Víctor Küppers: "Why is knowing how to listen so important?", with 28.5 million views.
5) Jordi Sierra: "Reading saved my life, writing gave it meaning," with more than 27 million views.
6) Lucía Galán: "Children remember moments with their parents, not hours," with almost 23 million views.
7-. María Jesús Álava: "Loving your children isn't enough. You also have to believe in them," with more than 20.5 million views.
8-. Mario Alonso Puig: "Self-esteem is key to your child's intelligence," with 20 million views.
9.- Elsa Punset: "Emotions have a significant impact on children's intelligence," with 19 million views.
10.- Kiran Bir Sethi: "We have lied to our children. They are not the future - they are the present," with more than 16 million views. Download or listen to this podcast on all available platforms!