In April 2010, when smartphone penetration was still very low in Argentina, BBVA Francés launched an innovative communication channel to be closer to its customers. FrancésGo was the first mobile channel in the financial sector. It allowed customers to obtain information about BBVA Francés card promotions by text message (SMS that all types of devices could receive), segmented by area, type and brand. At the time, customers had to send the word "GO" to a four-digit number. And that's how it all started.
Just seven years later, BBVA has managed to hit a new milestone: Digital customers now account for 50%. At the end of October, BBVA Francés had 1.3 million active digital customers who use internet banking. This represents an annual growth of 28%. Customers using the mobile app have even higher growth (37%). The mobile app has continued to evolve and today allows users to communicate with the bank by Facebook Messenger, among other methods.
BBVA's presence in Argentine goes back to 1996, with the acquisition of Banco Francés, which culminated in 1997. Twenty years later, BBVA is leading the transformation of the financial industry in the country and is firmly committed to its economy. Our Group Executive Chairman expressed precisely this idea during the official opening of the new headquarters in Buenos Aires, the impressive BBVA Francés Tower, which entailed a nearly $250 million investment. "With this opening, we reiterate our long-term commitment to Argentina because we believe in the Argentines and in their future," Francisco González said at the April 2017 event.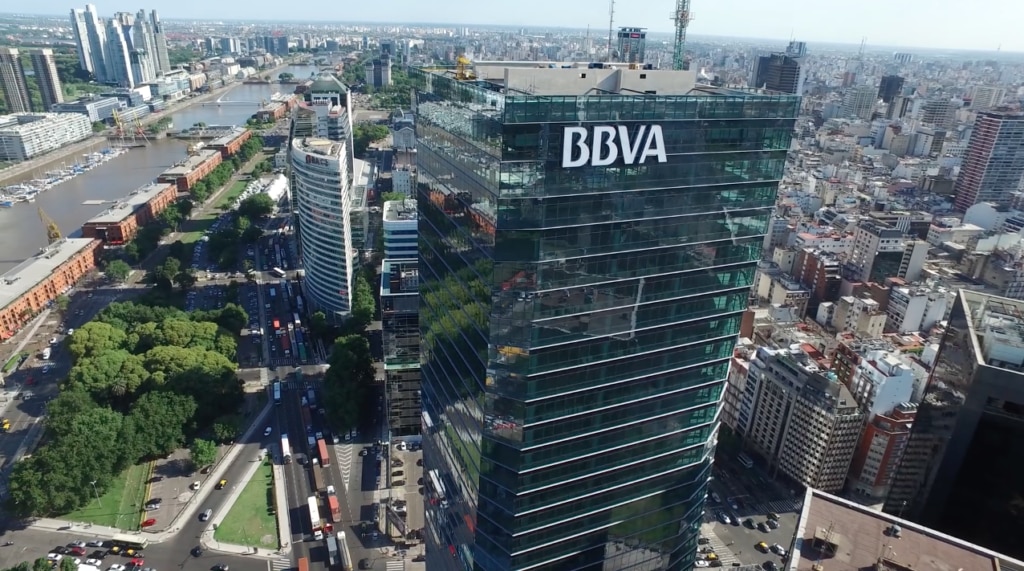 BBVA's presence in Argentine goes back to 1996. - BBVA
And if we look at BBVA Francés' business, in the first nine months of 2017, lending increased by 39.4% – BBVA's highest growth in all of Latin America. Recurring revenue also had a solid performance with a net interest income that continues accelerating its growth.
These good numbers are supported by the macroeconomic trends in Argentina, where the best is yet to come. Despite a negative GDP in 2016 (-2.2%), BBVA Research is forecasting a 2.8% growth in 2017 and 3% in 2018, making the country one of the three most dynamic in Latin America. The data from BBVA Research show a consolidation of this growth with inflation that will continue to decline. Greater investment in infrastructure and more momentum in imports are also expected next year.
In a short period of time, the liberalizing economic policy and the structural reforms being carried out have transformed the Argentine economy, which is now on the path to sustainable growth.  This growth creates trust among international investors, as demonstrated by the international rating agencies' recent upgrade of Argentina's sovereign debt rating.
Foreign policy is also sparking positive perceptions, marked by an openness and international trust that will lead Argentina to host the G20 in 2018. It will be the first country in South America to chair the club of the most powerful countries in the world.
In this new scenario, we are convinced that BBVA Francés will use all its experience to benefit Argentina. We have a bank with significant financial strength, to which investors have recently expressed their commitment, demonstrating the confidence that exists in the BBVA Francés team. We also have a very ambitious growth plan, leveraging the use of new technologies and a profound knowledge of our customers, in order to bring the age of opportunities to everyone.
We have the best environment, the best team, the best bank, and now we want to lead this period of growth, reiterating our commitment. And we want to do so by transforming the experience we offer our customers. We want to accompany Argentina, its companies, its people, on this transformation journey, always offering the best experience and a full range of financial services and solutions that have a positive impact on customers' lives. Because of all of this, we also believe that the best is yet to come for BBVA Francés. Welcome to Argentina. Welcome to BBVA Francés!