Carlos Torres Vila: "BBVA's strategy is deeply linked to innovation and entrepreneurship"
BBVA's CEO, Carlos Torres Vila, has spoken of the great impact entrepreneurs bring to society at the opening of Spain's biggest startup conference.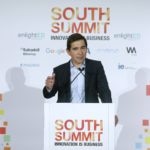 The bank's Chief Executive, who was named last week as the newly designated Executive Chairman, was addressing an audience of several thousand at South Summit in Madrid today.
Carlos Torres Vila began by expressing his belief that entrepreneurs were not only the lifeblood of society, but critical to the future as they ask the questions and find the solutions that bring new ideas into existence.
More than that, though, the newly designated Executive Chairman of the bank, who it was announced last week will take over from current Executive Chairman Francisco Gonzalez at the end of this year, said that this drive for innovation is critical for creating wealth in society.
Speaking at the opening of the conference, Carlos Torres Vila, said "innovation and entrepreneurship is what creates wealth, it is what drives society forward —not only for the entrepreneurs and the investors that believe in the ideas and the team, but because it is what creates wealth for society at large, creates jobs, increases competitiveness, and fosters a better use of resources."
He continued that for him, what was also critical was recognising —as the late Israeli President Shimon Peres stated— that the world's most valuable resource is humanity and that one of the roles of both the public and private sector was to ensure entrepreneurs had the right conditions to thrive.
The BBVA CEO went on to thank the politicians in the audience, including the Spanish Economic Minister Nadia Calviño for helping to support the right environment in Spain for innovation to succeed.
He said: "I think authorities can have huge impact, not only because of their impact on education, not only by making it easy to start up a business, but also, and I think more importantly, and maybe not so much talked about, providing the context for businesses to scale up, to become large and truly high impact."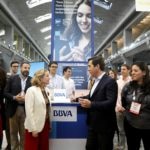 Carlos Torres Vila, BBVA's CEO, during its visit to BBVA's stand at South Summit accompanied by (from left to right): María Benjumea, founder and president of Spain Startup; Nadia Calviño, Economy Minister; Marisol Menéndez, head of Open Innovation at BBVA; and Francisco Polo, Secretary of State for Digital Progress.
Carlos Torres Vila also spoke about BBVA's own strategy to foster innovation, stating: "Our strategy at BBVA is very much linked to innovation and entrepreneurship."
He further outlined how for BBVA the business' aim was to bring the age of opportunity to everyone, and that key to this was the need to leverage digital technology, including developments like AI and data analysis, to support clients in their life and business goals. He added that technology was an enabler that helped people to better understand their data and money, and that this understanding allowed them to make better informed decisions.
Turning to the innovation from within the bank, the CEO explained how BBVA is spearheading innovation in the banking system, exemplified by the BBVA app being named for the second year in a row as the best banking app in the world by independent analysts Forrester.
But he also stressed how partnerships and building collaborative ecosystems was absolutely crucial to accelerating the pace of change, hence BBVA's long-standing work in this area, including the BBVA Open Talent competition now in its tenth year, and a range of initiatives like API market.
Carlos Torres Vila also mentioned the work of Propel Venture Partners in funding equity investments and importantly the support the banks provides to vulnerable members of society through BBVA Momentum, a program for social entrepreneurs and the work of BBVA's Foundation for Microfinance, which has financed more that 2 million entrepreneurs, mostly women, with microcredit facilities.
Closing his address, Carlos Torres Vila ended by saying how he felt Spain had a huge opportunity for growth in entrepreneurship, not least because of the size of the economy and the close links to Latin America.
He said: "So we have to think big. We have to seize the opportunity and we have to be a catalyst for innovation across the Spanish speaking world and how best to do that - to foster connections, partnerships and growth."
As well as the conference in Madrid, South Summit and BBVA - which is the conference's ecosystem partner - will also be staging events in Colombia and Mexico over the coming months, demonstrating the commitment to furthering the growth on entrepreneurship across Latin America.
Meanwhile BBVA's Executive Chairman, Francisco González, will be addressing the issue of education later today at South Summit's EnlightED event on how education can be reinvented.
BBVA will also be represented by Derek White, Global Head of Client Solutions, who will be tackling the issue of disruption in the financial services sector on Thursday.
The bank is also specifically sponsoring a stage dedicated to innovation, which will see a range of startups that have come through the BBVA Open Talent competition given stage time to present their business cases to the assembly in a bid to reach new customers and investors.